Deskless Employee Engagement | Engage Deskless Workers
Deskless employees are not a new phenomenon in any way. They have been and continue to be an essential part of the global workforce. But it is true that deskless employees and their contribution to the workforce are often overlooked. Deskless employees make up nearly 80% of the global workforce.
Employee engagement, especially that of the deskless workforce, is important, or it will have a negative impact on productivity, customer satisfaction, and turnover rates.
Who is a Deskless Worker?
Employers who do not use a designated workspace or office are called deskless workers. According to recent reports, approximately 2.7 billion people, 80% of the global workforce, are deskless workers.
These employees usually work in sectors like healthcare, retail, manufacturing, construction, telecommunication, etc. Think of the nurses, salespersons, and even many doctors. All comprise a deskless workforce. These people are not sitting at a desk and working. Rather, they drive the global platform with physical activities.
Even though deskless workers have been an integral part of the global workforce, they are often overlooked by corporations. There should be a conscious effort from the employers to engage these workers. Non-engaged and disorganized workforce leads to a negative impact on productivity and the work culture.
7 Employee Engagement Ideas For Deskless Workers
1. Gamification
Gamification is a process by which gaming tactics and strategies are used in non-gaming contexts like in the workplace. This innovative technique is especially helpful in training newly hired employees.
The gamification process can be established via point systems, games, rewards, badges, and such according to the performance of employees. According to surveys, almost 80% of employees believe that gamification is more engaging and increases productivity.
What's more, gamification is also an excellent learning tool. On top of that, it instills a positive and healthy competitive environment in the workplace.
📌 Relevant read: Employee engagement guide for HR professionals
2. Corporate gifting
Corporate gifting is an important aspect to keep in mind to keep employees engaged. You can gift your employees on special occasions like Christmas, New Year, Diwali, and more.
It is a great way to make your employees feel appreciated.
Employers can give personalized or customized gifts to employees on special occasions. One can opt for gift hampers, gourmet gift baskets, technological gifts, and more.
It is a very thoughtful way to make your employees feel like part of an organization. Employees, especially deskless employees, do not feel part of the group and corporate gifting is a way to accomplish that.
📌 Find corporate gift ideas for different occasions such as:
3. New joining worker kit
A smooth employee onboarding process is a sure-shot way to keep your employees feeling welcomed and engaged. First impressions really do matter while a new employee is joining a new company.
You can provide your new employees with a new employee joining kit as a welcome gift. This will definitely make your employees feel like part of a group and helps in engaging them more.
Your welcome gift could consist of customized items an employee might need to settle into the role. For example, a pen, sipper, hoodie, travel bag, and so on.
Here, it might be a good idea to have their gifts engraved with the name of the company. It will not just give employees a sense of belonging but also promote brand awareness.
Looking for new employee welcome kit ideas? Contact our experts and plan a welcome kit for your newly joined employees.
📌Types of corporate gifts you can consider sending to your employees and clients:
4. Incentives and rewards
All over the world, recognizing your employees for their commendable work is key to ensuring they stick with you for the long term.
Monetary incentives and other corporate rewards are a wonderful way to keep your employees optimally engaged. You can give gifts or other rewards to top performers every month. That will make your employees feel a sense of sportsmanship and instill healthy competition.
You can also provide monetary incentives to your top performers as an attempt to make them feel engaged and keep their productivity levels up. In addition to this, providing promotions when due, salary hikes, and amping up miscellaneous employee benefits will keep them engaged with your company.
Deskless employees can find camaraderie and a sense of belonging that they sometimes lack with measures like these.
📌 Relevant read: Learn how much to spend on corporate gifting
5. Mobile technology
Mobile technology has drastically transformed our work culture. Not just the workforce, consumer habits have also changed with the advent of technology.
Both employees and consumers alike are accustomed to whipping out their phones for everything.
Hence, the ease of technology should be available to the deskless workforce too. Mobile technology can be used to give deskless employees the power to consume information when it is most convenient for them.
It can also be used to transmit information in the form of text messages from higher officials. This makes them feel connected to the organization thus helping in engaging the workers.
An excellent platform for HR to keep employees engaged via mobile phones is to set up mobile-friendly blogs and forums. These platforms can be used to host the latest company news, provide updates, ask questions, voice opinions, or even share personal stories.
It's a great way to keep employees from different departments connected to each other. Deskless employees are bound to feel included and recognized.
Relevant read: Employee engagement in Google (key strategies)
6. Smartphone applications
While mobile technology has given unbound information available at our fingertips, employer-specific mobile applications are the door to specific information access. This type of employer-specific application has implications for both deskless and deskbound workers.
Mobile applications can be used for effective communication, collaboration, and more. Information can be passed down and accessed whenever needed.
With the help of the mobile application, employees can be given impactful information in short bursts that is available any time they require. This is called microlearning and is an effective way to keep employees engaged.
Conclusion
There is a massive opportunity for entrepreneurs to make conscious efforts to improve engagement among deskless employees. Companies should recognize and appreciate the impact deskless workers have on an organization.
A big division of deskless employees has been neglected with not enough resources and technological advancements. This problem should be taken seriously and actions are to be taken by entrepreneurs.
We hope this article has provided you with an insight into how to engage deskless workers with business strategies and better communication.
While management pours a lot of effort and resources into improving technology for deskbound workers, we hope this article urges entrepreneurs to do better in the deskless employee front.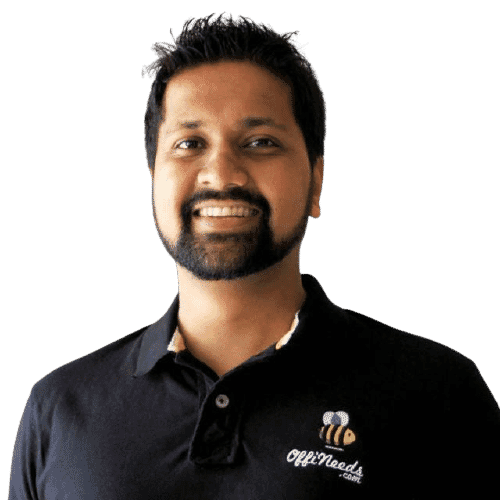 I am Srikanth Acharya, CEO at TheHomeOffice.in & OffiNeeds.com. TheHomeOffice helps professionals work more efficiently from their homes and at Offineeds, we help companies create #BrandAmbassadors through #CorporateGifts.