20 Corporate Anniversary Gift Ideas For Employees
Long-term and loyal employees are hard to find. If your company is blessed with employees who have stayed with you long enough to celebrate anniversaries, you should make an effort to cherish them.
Loyal employees are the backbone of any successful business.
Make your employees feel appreciated and cherished with our unique and personalized corporate gift ideas to celebrate their momentous corporate work anniversaries.
Best Employee Work Anniversary Gift Ideas
Read along to find out our top picks for corporate gifting your valuable employees on an anniversary.
1. Certificates and Trophies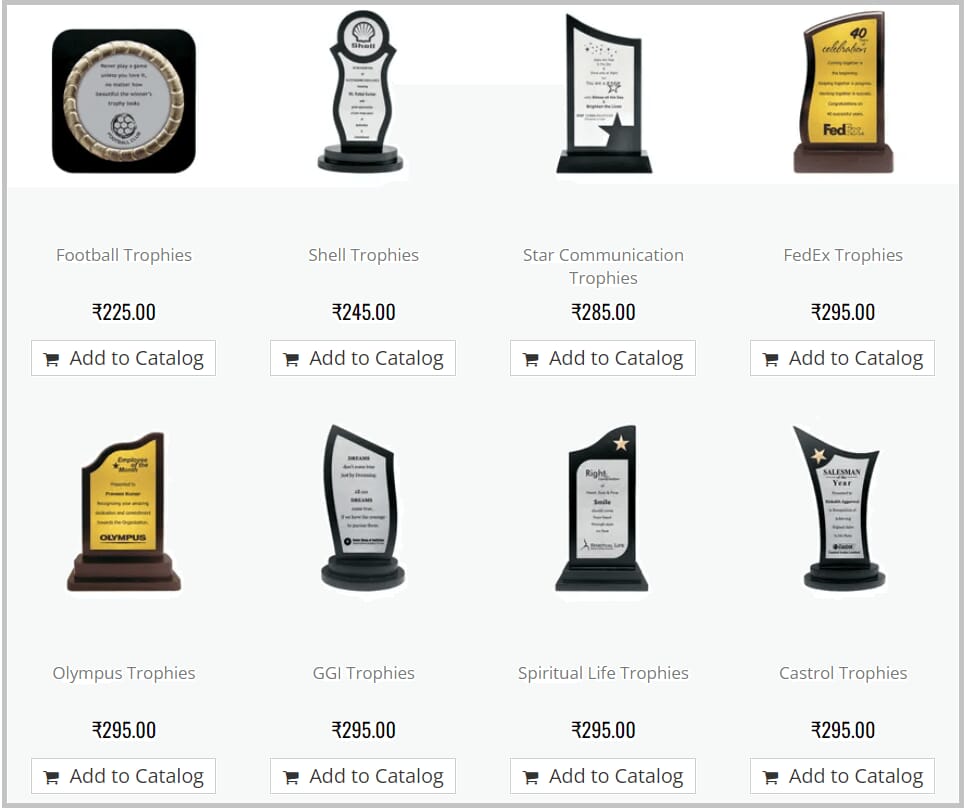 There is something about a certificate or trophy that makes us feel a sense of achievement. Since we were young, a certificate or trophy of appreciation has been equated with achievements. OffiNeeds provides a wide range of employee recognition gifts suited for work anniversaries. With a curated list of products like corporate certificate frames and customized trophies, you are bound to find something for your employees that too at reasonable prices.
Why choose this gift: Make your employees feel special with trophies or certificates for their achievements. Boost their morale and motivation.
Key features:
Made to order
Fully customisable
Wide range of shapes and colours is available
Premium quality materials
Price range: starts from INR 125
2. Frankfurt Laptop Bag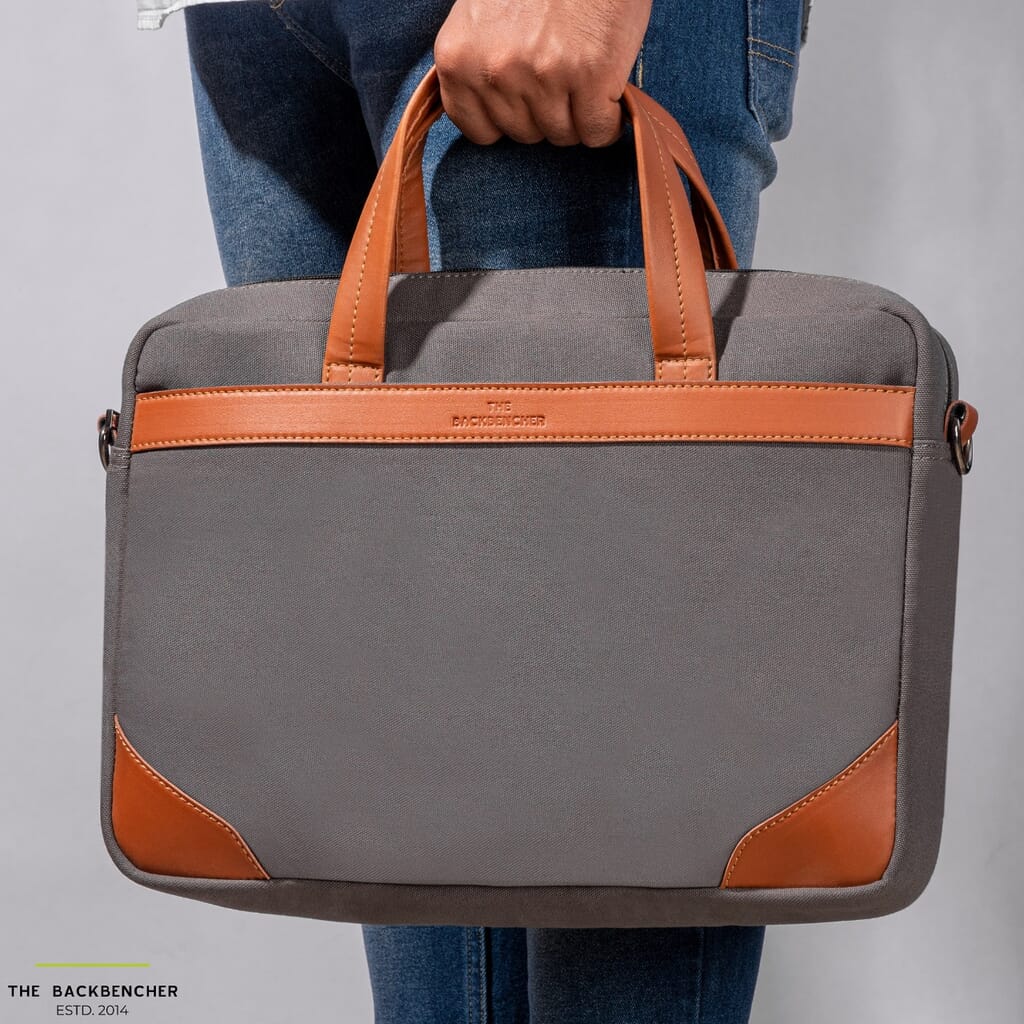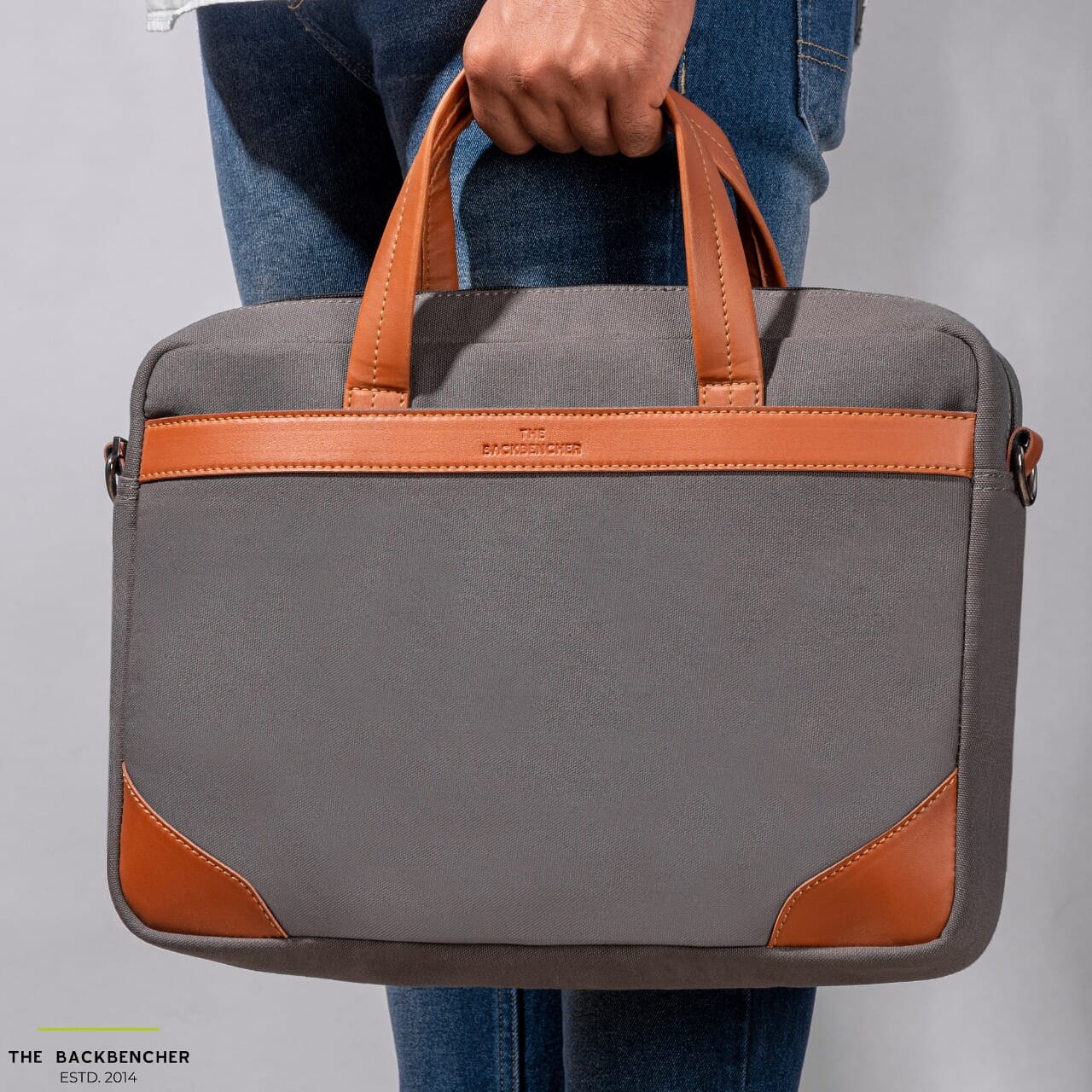 Gift your employees something that looks great and would be useful. These corporate laptop top bags are sleek, stylish, and would completely be utilitarian for your employees. Made with canvas and vegan leather, they are totally customisable and form a perfect gift.
Relevant: Buy Corporate travel bags for employees and clients
Why choose this gift: What is better than gifting your employees something they can use every day? The laptop bag comes in multiple shades and is customisable by digital printing. Remind your employees of your appreciation everyday with this wonderful gift.
Key features:
Made with vegan leather and canvas
Luggage trolley strap at the back
Customisable
Price range: INR 1495
3. Pen Holder (PYD 6 in 1)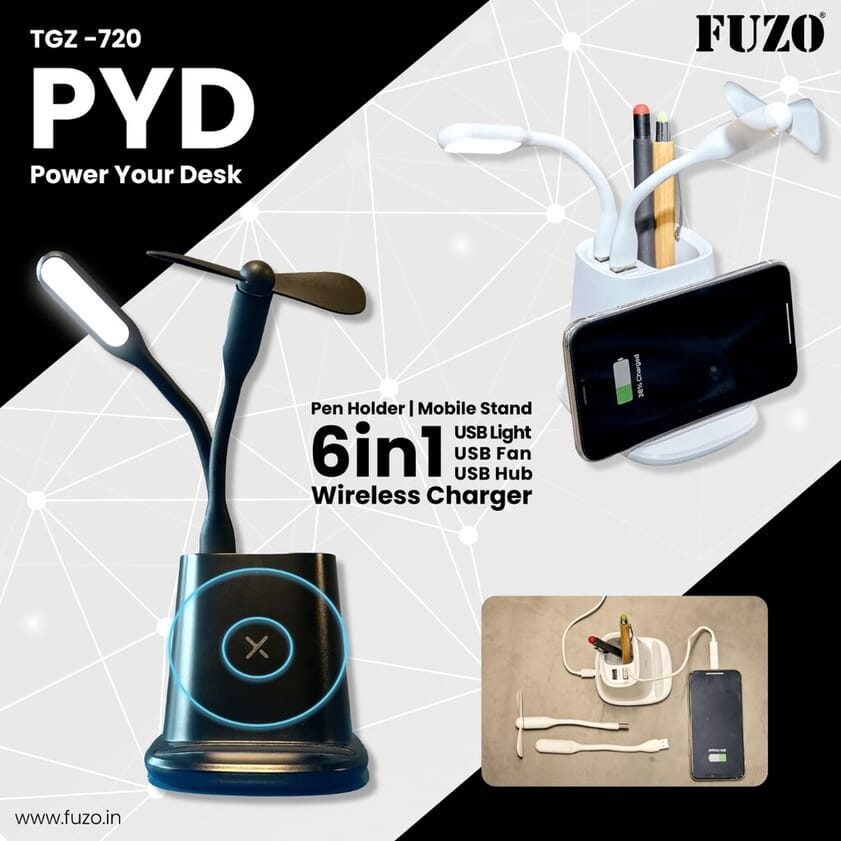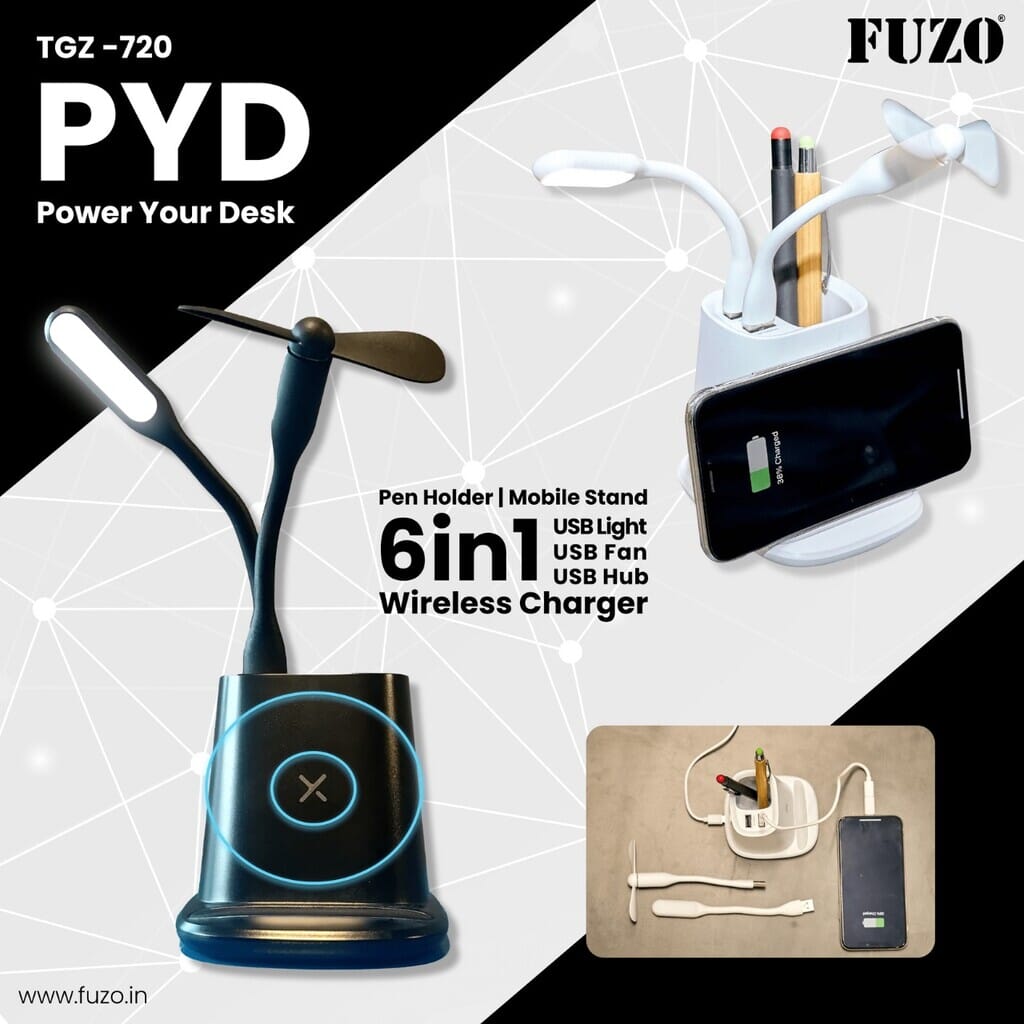 A multi-utilitarian tool with multiple uses, the PYD 6 in 1 is perfect for employees. Manage six functions with a single product: convert it to a pen holder, wireless charger, mobile stand, usb, and more.
Why choose this gift: Celebrate the contributions of your employees with a gift that matches their multifaceted skill set. Gift them the PYD 6 in 1 to extract top-notch productivity levels from them at the workplace.
Key features: ‌
Multi-Functional Desktop Gadget
Wireless Charger: Output 5W
Dual USB Hub (5V=2A)
Mobile Stand & Pen Holder
USB Light & Fan
Price range: INR 1499
Relevant for you: Buy promotional corporate pens customized with brand name and logo
4. Cuir Ally Dexter Smart Erasable & Reusable Notebook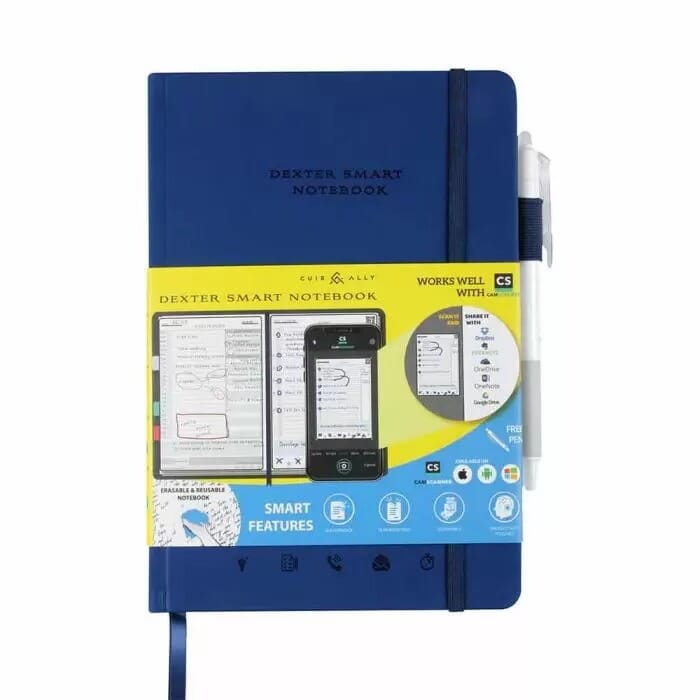 A gift that is both practical and environmentally friendly, Cuir Ally Dexter Smart Erasable & Reusable Notebook comes with a pilot frixion ink pen. It has patented and unique page designs which can be completely wiped off with erasers on the back.
Boost their productivity, save time and protect the environment—all with this one gift.
Why choose this gift: A perfect environmental-friendly gift for your employees to let them boost productivity and achieve more goals.
Key features:
100 erasable and reusable pages
A5 size paper
Comes with Pilot Frixion Ink pen
192 gm thick paper
Integrated pen holder
Smooth and premium quality paper
Price range: INR 815
Buy Cuir Ally Dexter Smart Erasable & Reusable Notebook
5. Sitplus Orthopaedic Back Rest Support Cushion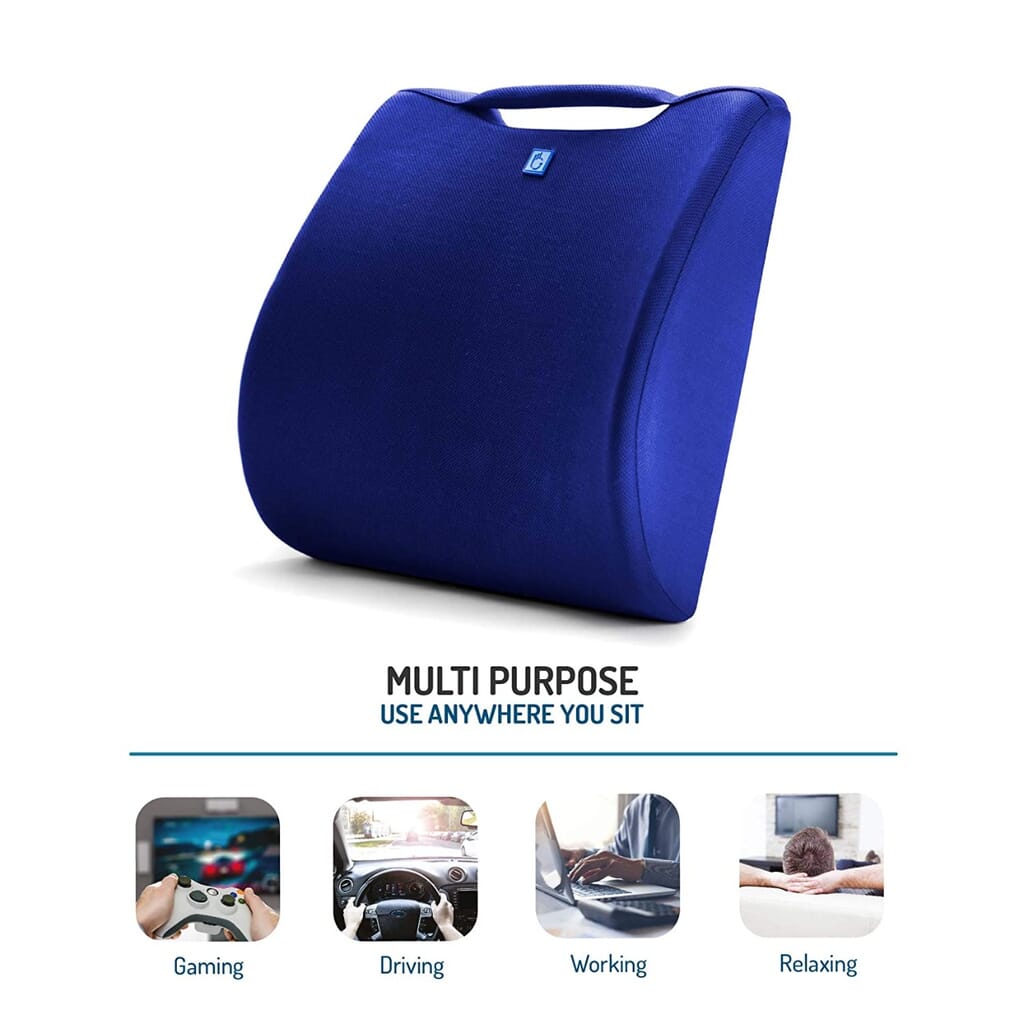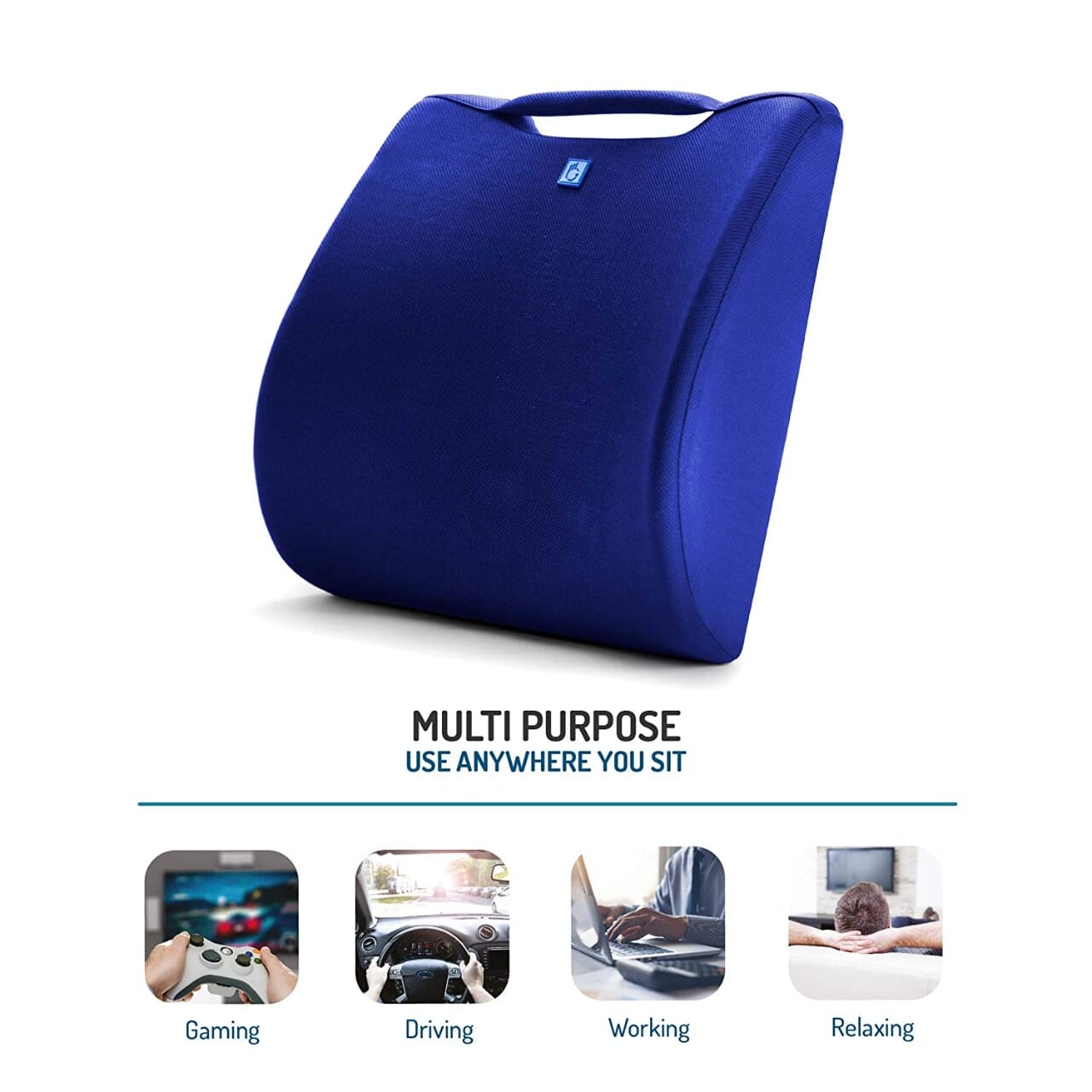 A comfortable employee is a happy employee. Gift them comfort on their work anniversary. The custom orthopaedic backrest support cushion is a perfect gift, especially for elderly employees. With high-density foam, the cushion provides utmost comfort to your employees.
Why choose this gift: Help your employees to correct their posture and work ergonomically with the back rest cushion. The product keeps your spine aligned in its neutral position. Help your employees to let them serve you better.
Key features:
Portable handle
Adjustable straps.
Multipurpose use.
High-density foam
Doctor-recommended
Price range: INR 1010
Buy Sit Plus Orthopaedic Back Rest Support Cushion
6. Aqua Bot Coffee Mug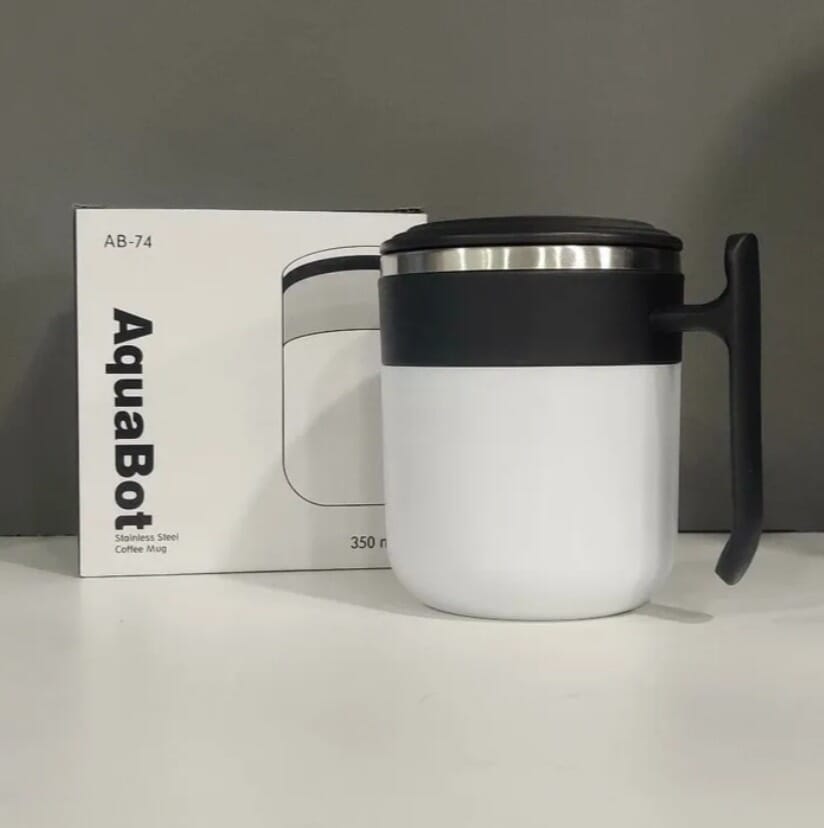 Coffee is an indispensable part of our work culture now. Wake them up and refresh them with a gift of this Aqua Bot Coffee Mug. Easy grip handle and spill-proof design perfect for keeping on the working station, it works with both hot and cold beverages.
Why choose this gift: A perfect wake me up gift for your employees in the form of a coffee mug. With customisation options like digital printing, give them a gift to remember with your company logo attached.
Key features:
350 ml capacity
Stainless steel material
Easy grip handle
Silicone seal to ensure spill proof
Works with hot and cold beverages alike
Price range: INR 285
7. Offikart Employee Joining Kit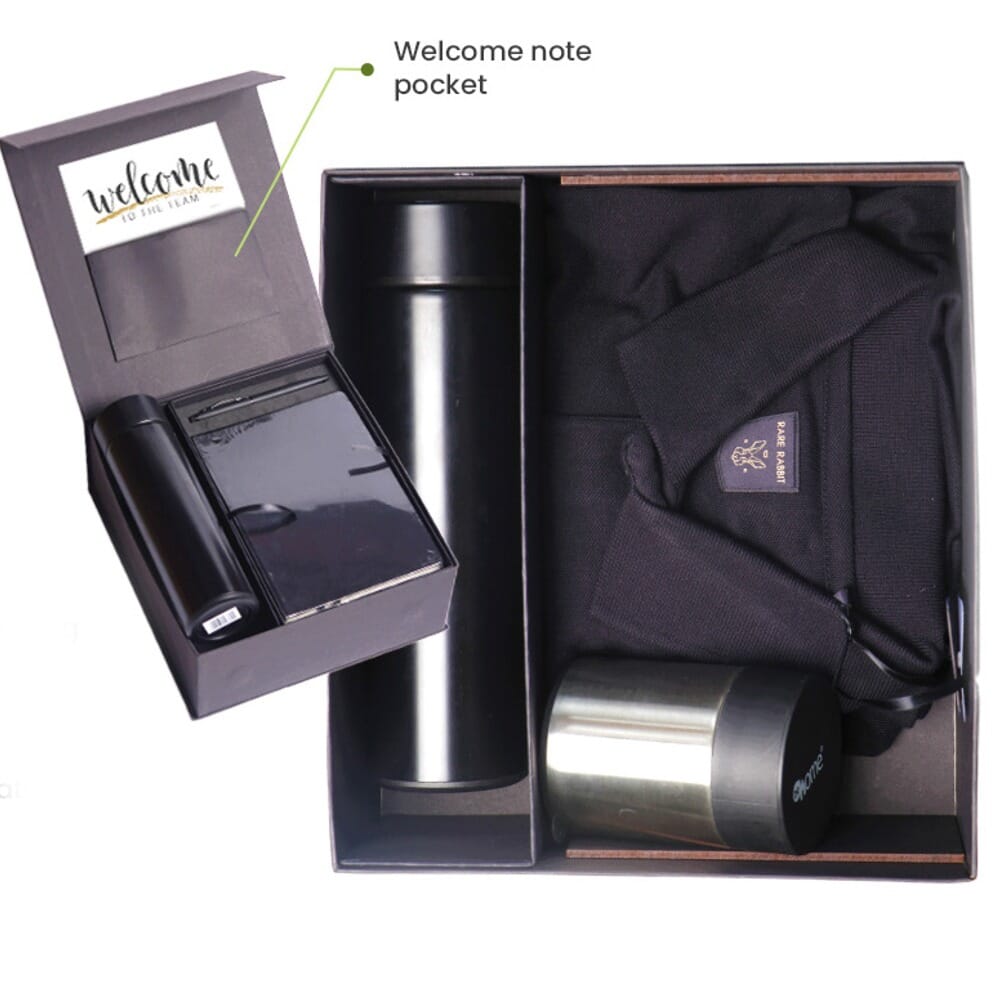 An employee joining kit is also perfect for work anniversary occasions. Gift them joy in a box with multiple products all useful for your employees. A diary, pen, customized corporate t-shirt, mug and bottle—everything your employee needs to kick ass at work.
Why choose this gift: A perfect multi purpose git kit enabling your employees to boost productivity. Make their day comfortable and productive with an assortment of useful gifts.
Key features:
Scribble diary
Sleeko pen
Rare rabbit polo shirt
Micro stainless steel mug
Temperature bottle
Customisable by digital transfer printing
Price range: INR 2135
Relevant Read: Employee onboarding gift ideas
8. Constance Intelligent Constant Temperature Mug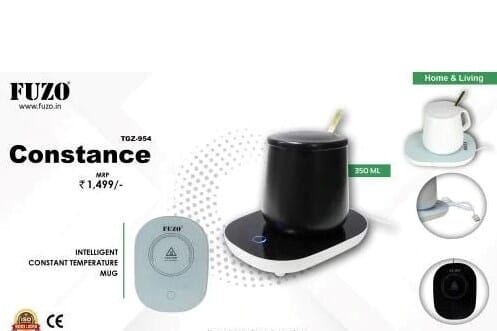 Go a step further from the usual mug route. Presenting the temperature control mug from constance—it comes with a 350 ml ceramic mug and stainless steel spoon for ease of use. Keep your beverages at a constant temperature of 55 degree celsius.
Why choose this gift: Free your employees the hassle of cold beverages. Keep their coffee and tea at a perfect drinkable temperature at all times.
Key features:
Auto on and off
Ceramic mug
Stainless steel spoon
Premium heating cost
Perfect temperature of 55 degree celsius
Price range: INR 845
Buy Constance intelligent Constant Temperature Mug
9. Weekender Business Bag with Overnighter Urban Gear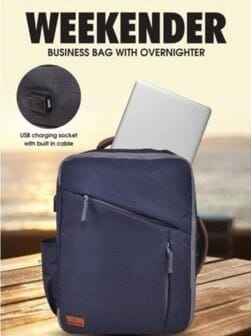 A multipurpose travel bag that can be converted to messenger bag, back pack, sling bag or a cross body bag. Comes with many useful features like USB charging socket, inner pockets, luggage trolley holder, and more.
Why choose this gift: A perfect gift for your employees on their work anniversary. Great for short trips, official or otherwise. It is available in multiple colours and customisable.
Key features:
3 Way convert-able feature – Messenger bags, backpack, sling bag or cross body.
Padded laptop compartment
Adjustable shoulder straps
USB charging socket with built in cable
Inner pocket for power bank
Luggage trolley holder & sling included
Price range: INR 1495
10. Pacific Laptop Sleeve
A compact and fully padded laptop sleeve which fits laptops up to 15 inches, the pacific laptop sleeve looks elegant and sleek. Protect your laptop from scratches with all-side padding. Made with cotton canvas, the laptop sleeve also features a zip closure.
Why choose this gift: Let your employees feel the love and appreciation from your side with a gift that looks great and can be used everyday. Available in multiple colour options, the pacific laptop sleeve looks urbane and stylish.
Key features:
Zip closure
Vegan leather and canvas material
All around padding
Durable
Price range: INR 875
11. Arctic Fox Chrome Black Laptop Bag and Backpack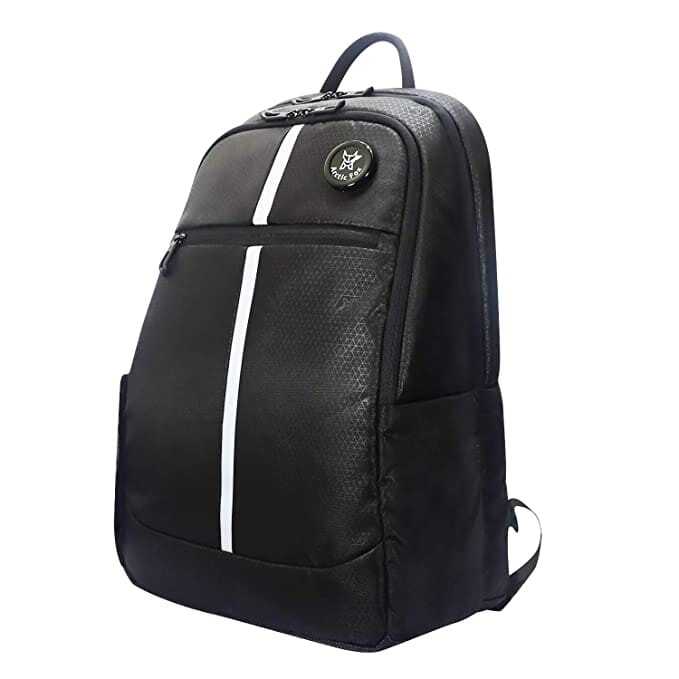 Ultra stylish and chic laptop bags come as a perfect corporate gift for your employees. Made with PU coated polyester, the laptop bag has a detachable laptop compartment which can hold a laptop of upto 15 inches. It also boasts of many features like padded shoulder strap, water bottle pouch and more.
Why choose this gift: A perfect gift that your employees can use everyday. Water resistant, durable, and stylish your employees will surely be impressed.
Key features:
Two spacious compartments
Detachable laptop compartment
Padded shoulder strap
First aid kit
Water bottle pouch
Handle haul loop
Water repellant
Price range: INR 1999
12. Optimus 8 in 1 Technology on your Desk Fuzo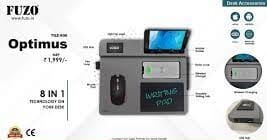 An innovative product by Fuzo, the Optimus 8 in 1 Technology is a multi-purpose gadget. This innovative product consists of a mouse pad, erasable writing pad, wireless charger, USB port, mobile stand, pen loop and more.
Why choose this gift: The optimus 8 in 1 technology on your desk is a great multi utility gift for your employees. For your tech savvy employees, get them this innovative product which will sure impress them.
Key features:
M‌ouse Pad
Erasable Writing Pad
Wireless Charger – Output 10 W
Mobile Stand
USB Hub
Light Up Logo
Stylus
Pen Loop
Price range: INR 1245
Buy Optimus 8 in 1 Technology on your Desk Fuzo
13. Milton Boom 900 Stainless Steel Bottle with Wireless Bluetooth Speaker 700 ML

Play your favourite music on the go as you are sipping on your favourite beverage. The 700 ml stainless steel bottle also sports a wireless bluetooth speaker compatible with both iOs and android devices.
Why choose this gift: This ultra cool and stylish product is a sure-shot way to make your employees happy. With a sporty black colour bottle featuring a colour changing strobing lights, it is not just cool but also functional.
Relevant: Buy personalized water bottles for employees and clients
Key features:
700 ml stainless steel bottle.
Colour changing strobing light
Buy Milton Boom Stainless Steel Bottle
14. Crux High Charging Speed And Leather Surface & With Compact Design Wireless Charging Pad – Pebble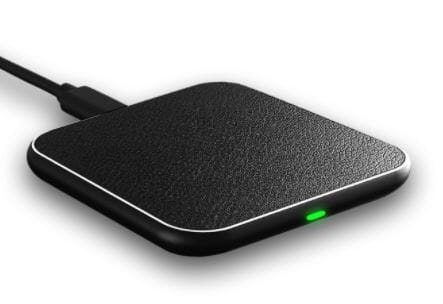 Ultra fast wireless charging pads from crux is your solution for all things device charging. Enabled with temperature control technology providing surge protection, short circuit prevention and more. Assured high-speed charging for your devices.
Why choose this gift: Charging your device is a hassle with multiple wires and fumbling for free sockets. Save your employees time and effort with this high-speed wireless charging device by Crux. With the sleek leather surface, the product is also bound to look good on their desk.
Key features:
Temperature control technology
High-speed charging
Case friendly
Qi-enabled
Price range: INR 4199
Buy Crux High Charging Wireless Charger
Relevant: Buy gourmet gift baskets for corporate
15. Mi Super Bass Wireless Headphones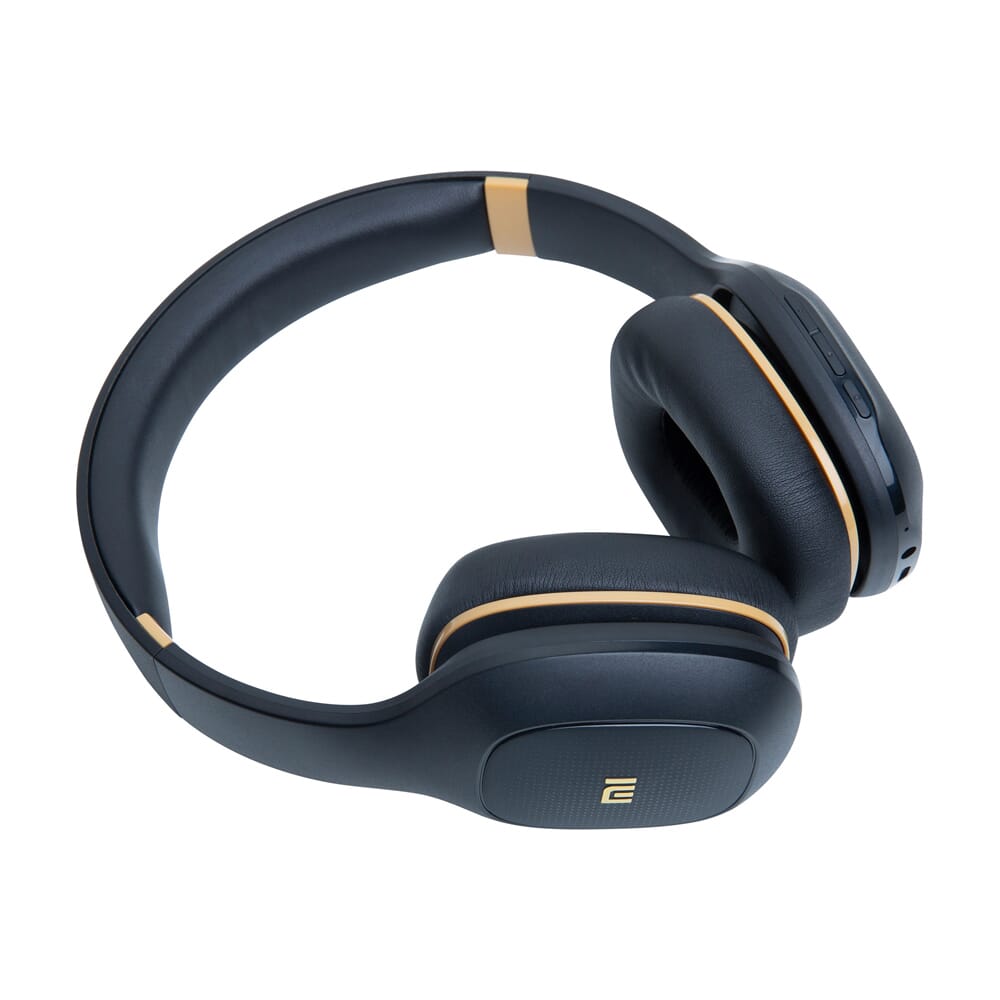 The sleek and stylish wireless headphones from Mi have a powerful bass, 40 mm dynamic drives, pressure free earmuffs and more. With upto 20 hours of battery life, listen upto 300 songs on a single charge.
Why choose this gift: The work from home and pandemic has increased a demand for good audio devices. A brand new wireless headphones that can be used for leisure and work will be a perfect anniversary gift for your employees.
Key features:
Long battery life
40 mm dynamic drivers.
Voice control
Bluetooth 5.0 connectivity
No pressure earmuffs
Price range: INR 1865
Buy Mi Super Bass Wireless Headphones
16. Swiss Military Travel Vacuum Flask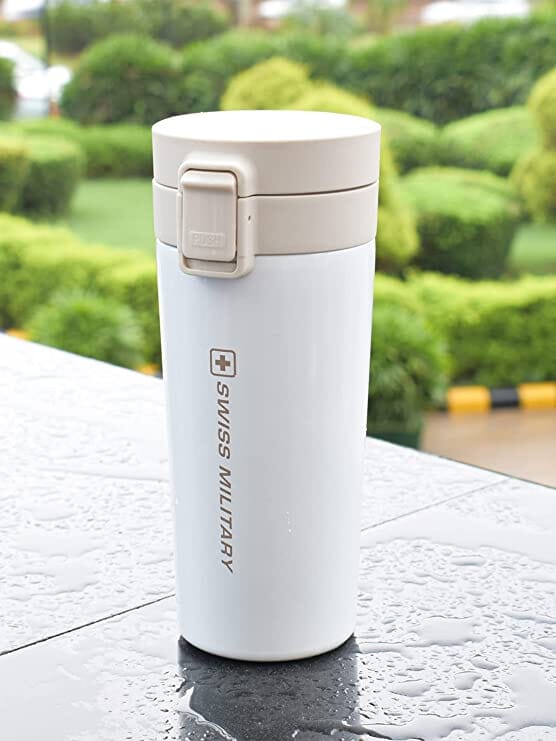 A military-grade double-insulated vacuum flask perfect for carrying beverages both hot and cold, it has a net volume of 300 ml and keeps your beverage in the desired temperature for long.
Why choose this gift: It is always a better idea to give employees something useful rather than something for keepsake. The double-insulated Swiss military travel vacuum flask is perfect for employees celebrating their work anniversaries especially for long time employees.
Key features:
300 ml capacity
Stainless steel
Double insulated
Customisable by digital transfer printing
Price range: INR 1165
Buy Swiss Military Travel Vacuum Flask
17. Rockerz 450 Bluetooth On-Ear Headphone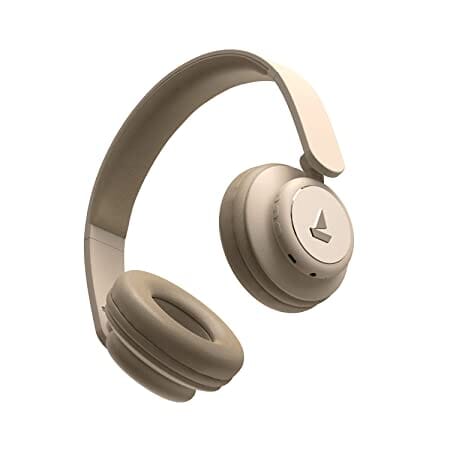 A great option for bluetooth headphones, the rockerz 450 has a battery life of upto 15 hours and can be charged completely within 2 hours. The headphones also boast of lightweight ergonomic design with easy controls.
Why choose this gift: A perfect gift for work from home and leisure activities for your employees. A high grade bluetooth headphones with mic will be a great asset for your employees.
Key feature:
Ergonomic lightweight design
Instant voice assistant
Compatible with android and iOs
15 hours battery life
Micro USB charging cable included
Price range: INR 3990
Buy Rockerz 450 Bluetooth Headphones
18. Pigeon Brewster Coffee Maker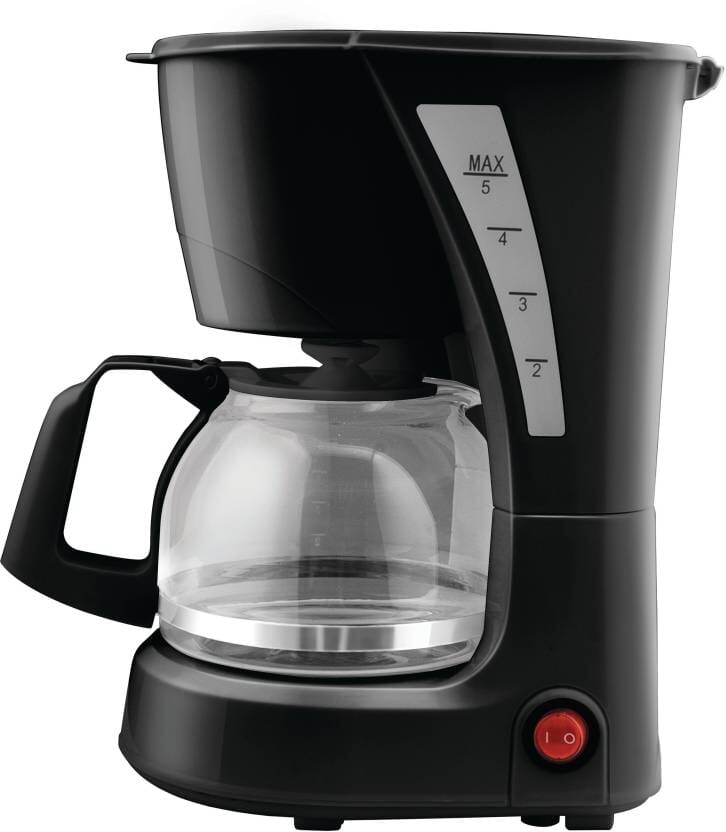 It is a dishwasher-safe and ergonomically-structured coffee maker from Pigeon with 600 ml capacity. It is easy to use with advanced brewing techniques with a mash filter. The system provides an anti-drip mechanism and an illuminated on/off switch for ease of use.
Why choose this gift: Who doesn't like coffee? Gift your employees the refreshment of freshly brewed coffee everyday. An affordable and useful option that is sure to impress your employees.
Key feature:
Anti-drip mechanism
Ergonomic design
Non-slip fit
600 ml capacity
220-240 volt operating voltage
Price range: INR 1865
Buy Pigeon Brewster Coffee Maker
19. Portronics Ruffpad, Rewritable LCD Screen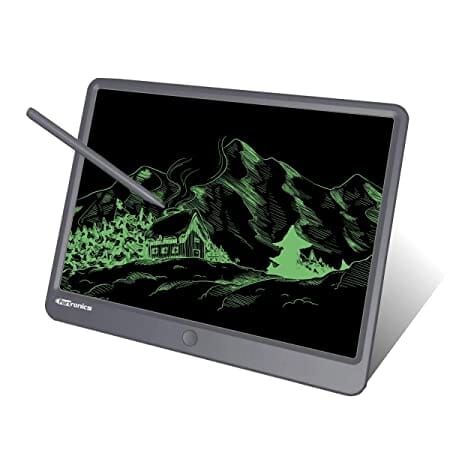 The eco-friendly, rewritable LC screen allows upto 100000 overwrites. It is radiation-free and hence, can be used for long hours. The 15 inch screen is perfect for writing, scribbling, drawing, taking notes and more.
Why choose this gift: Corporate employees always have the stuff to write down. Make this chore easier for your employees with the portronics ruffpad. Environmental-friendly and reusable, this lightweight and compact design is a perfect anniversary gift.
Relevant for you: Buy eco-friendly gifts with 100% eco-friendly packaging
Key features:
15 inch LCD screen
Smart lock system
High grade plastic body
Up to 100000 rewrites
Up to 20000 erase cycles
Price Range: INR 1495
20. Houston Card Wallet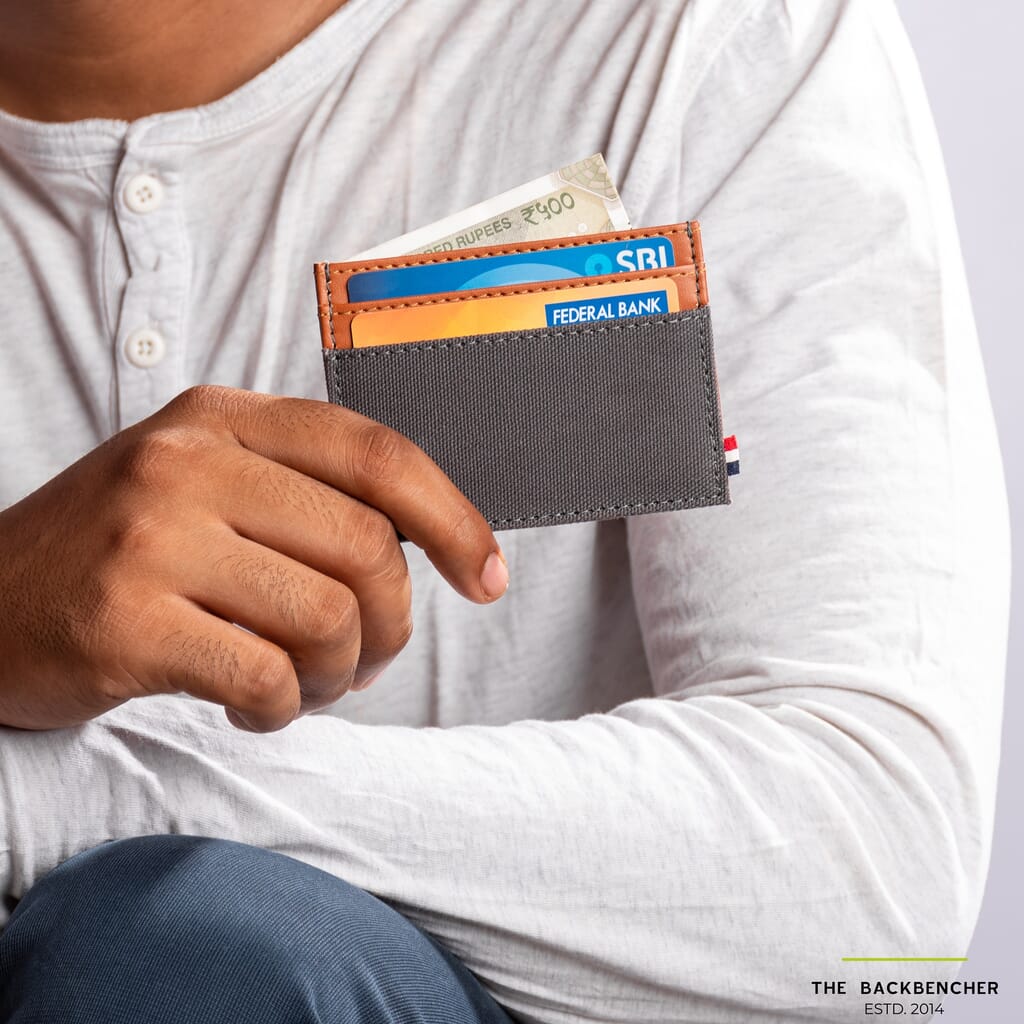 A minimalist unisex card wallet to help your employees keep their affairs in order. Dependable and durable card wallet with sleek and elegant design. Premium and durable cotton canvas range material ensures proper design and functionality.
Why choose this gift: Gift your employees functionality and safety. Help them protect their precious money with the card wallet. Unisex design which can be gifted to both male and female employees.
Key features:
Sleek design
Electromagnetic shield to prevent RFID theft
Cotton canvas material.and vegan leather
Sleek and non bulky design
Price range: INR 345
How do you celebrate an employee's work anniversary
When celebrating an employee's anniversary, show them how much they mean to you with a memorable party. So here are our steps for planning a successful employee anniversary celebration:
Step 1. Decide when to celebrate
Identify a day in a month, like the last Friday or the first Thursday of a month and block your team's calendar in advance. Then, send out reminders on time and create excitement around the party, so employees make it a priority to attend.
Step 2. Identify budget and location
Identify the event budget for the party and work around it. Some important things to consider are the location, kind of party, food and beverages, gifts for the employee, transportation if the party is outside your office location, etc.
Step 3. Choose work anniversary gifts
After deciding on location and budget, think about what gifts would be appropriate for the employee celebrating his work anniversary. For example, for the 10 and 25th anniversaries, you can give them thoughtful and unique gifts like travel bags, certificate frames, helpful kitchen appliances, fitness trackers, etc.
Step 4. Have an agenda
Plan the party with a schedule in mind. You can request a few teammates to share kind words of appreciation for the employee celebrating their anniversary. You can also dedicate time for the employee to share his journey with everyone. If you have the scope for a video presentation, add that and see the engagement soar.
For a virtual work anniversary party
With remote work being normalized, you can still celebrate a long-service employee who works from a different part of the country or even the world. So, here are some tips for throwing a virtual party.
In addition to the meeting invite and ensuring the invitees turn up for the event, you can deliver the employee's favorite food home, so they get a pleasant surprise while the party is on. You can also do a social spotlight to offer them work anniversary recognition and let the world know about it!
How OffiNeeds can help you find the best work anniversary gifts
People are your greatest assets, and this is especially true for loyal employees that grow with you. So, honor them by celebrating their work anniversary, which can promote employee engagement and retention.
At OffiNeeds, we are on a mission to help corporates with concerns around retention and engagement through corporate gifting. From our decades of experience in the corporate gifting industry, we've realized that gifts can create a positive emotional experience and bring forth a sense of being valued. And that is paramount to creating a culture of belonging that you're striving for.
Our corporate gifts, in particular, the employee anniversary gifts catalog, can help you find the right work anniversary gifts. We're sure our gifts will help boost your employee morale, improve engagement, and build a strong and positive work culture that is people-centric.
Final Words
Showing appreciation and gratitude to long-time employees is much-needed to ensure employee retention. Your kind gesture will definitely reflect positively on their productivity.
Choose from our curated list of products and impress your employees on the special occasion of their work anniversary. OffiNeeds is your one stop shop for all things corporate gifting.

I am Srikanth Acharya, CEO at TheHomeOffice.in & OffiNeeds.com. TheHomeOffice helps professionals work more efficiently from their homes and at Offineeds, we help companies create #BrandAmbassadors through #CorporateGifts.