15 Onboarding Welcome Kit Ideas For New Employees
Employees are an organization's greatest asset, even more than the revenue-generating products or services. So, when it comes to making the company among the best places to work at, employees must feel valued and recognized.
And this begins with creating a splendid first impression when onboarding new employees.
In our experience, this is best done by presenting onboarding welcome kits to new employees. There is no better kick-starter than a welcome kit; it offers the perfect opportunity to make your employees' first day an amazing one.
Let's dive into the welcome kit ideas ideal for new employees:
1. Customizable Joinee Kit
This new joinee kit contains accessories which employees can put to use from their first day itself. It includes a mug, temperature indicating bottle, customized notebook, and a customized box. The contents of this kit are bound to augment the recipient's journey in their new organization. It will assist them in taking notes easily and personalising their office desk.
Customizable: Yes
Price: INR 2,315
---
2. Magnetic Gift Box with Customized Products
An ideal new joinee gift is a high-quality, customized hamper with a welcome letter from the leadership team. Now, that's a gift set that will boost morale and increase engagement among employees.
The kit includes: 5 eco-friendly pencils with seeds, a customizable cap, keychain, and a magic cube. It also contains table accessories, including a customizable table book, mouse pad, wooden coasters, and a mug.
Customizable: Yes
Price: INR 2,945
---
3. Trainer Kit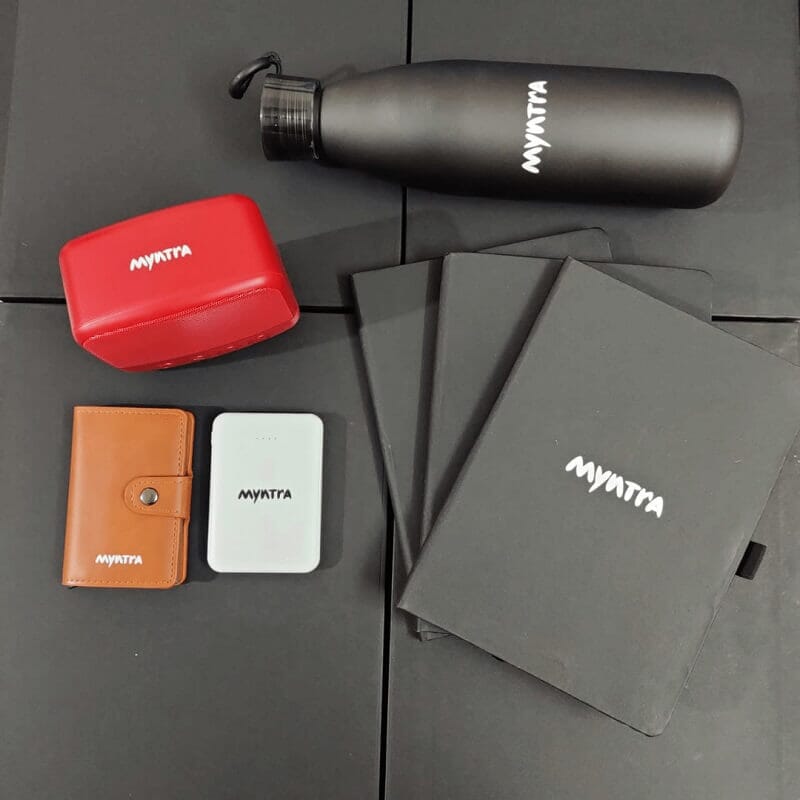 This welcome kit will help new employees kick start their career journey with their company. It will definitely boost their morale, and this will impact the business positively.
The kit includes: A customizable water bottle, Bluetooth speaker, leather cardholder, power bank, and a customizable notebook.
Customizable: Yes
Price: INR 2,545
---
Relevant Read: Learn about the caproate gifting trend for this year
4. High-Quality Gift Set
The Uniphore gift set is one of the best corporate gifting ideas so far. It comes with a high-quality box that includes a welcome letter to the recipient with onboarding instructions. Each element inside the gift box is customized in line with the company logo and the brand colors. This will definitely delight the employees and clients.
The kit includes: A mug, a notebook, a pen, a degree flask that shows the temperature of the contents inside the flask.
Customizable: Yes
Price: INR 3,995
---
5. Work-From-Home Gift Set
Organizations cannot go wrong with this work-from-home welcome kit for the newcomers. All the elements in this giftbox are customizable with the company name and company logo. It can also be customized with the employee's name to add a personal touch to it.
The kit includes: A customizable notebook, a flask, cup, pen and a mousepad.
Customizable: Yes
Price: INR 3,695
---
6. Rejuvenating Gift Set
This is the perfect relaxation onboarding gift kit for new joinees. It makes up for the first few days of induction by helping the employees unwind. This will boost employee morale.
The kit includes: Vacuumized Tea/ Fruit Infuser Sipper In Honeycomb Design, 9 tea caddies in a tea box, and a customizable gift box.
Customizable: Yes
Price: INR 3,115
---
7. Urban Gear Gift Set 1st Version
This new hire joinee kit is plush black and gives luxurious vibes. The new hire will be pleased to receive this since it will help them with onboarding. A satisfied employee will work better and yield positive results, thus leading their company to success.
The kit includes: A welcome letter, steel body water bottle, A5 size leather-bound notebook, pen, a beautiful mug, round neck t-shirt, customizable visiting card case, mobile pop socket, and a 5000 MAH power bank.
Customizable: Yes
Price: INR 2,445
---
8. Urban Gear Gift Set 2nd Version
This new joinee gift set is one of a kind which can be customized according to company branding requirements. This is an amazing gift option to enhance your new hire's career even more. This kit consists of important accessories, which can help them figure out their first few days at work. Eventually, they will yield the organization positive results.
The kit includes: The gift box consists of a notebook, pen, water bottle, recycled mug, a collared T-shirt, and a pop socket for the phone.
Customizable: Yes
Price: INR 2,445
---
9. Delightful Gift Box
This welcome box for new employees is an exciting box which will definitely provide the recipients with enthusiasm for work every day.
The kit includes: This gift set includes a pack of Snickers chocolates, a customized mug, a customized note and a sweatshirt.
Customizable: Yes
Price: INR 2,045
---
10. Eco-friendly Gift Set
This is an eco-friendly gifting set which will definitely enable the employee to have a positive image of the company from the first day. The gift kit will also help the recipient of this gift to get the perspective they need to perform their best at work.
The kit includes: A premium quality customizable cap, custom made greeting card, a notebook and a bamboo-finished pen.
Customizable: Yes
Price: INR 1,225
---
11. Morale-Boosting Gift Set
Among one of the favourite onboarding packages for new joinees is the Silicon Valley Bank gift set. It is an instant favourite since it consists of two things everybody loves: technology and dessert. This will be beneficial in boosting employee morale which can help yield the best results in the workplace.
The kit includes: Echo Dot Bluetooth speaker, pack of 9 chocolates, custom-made fridge magnet, a gift voucher and a custom made thank you note.
Customizable: Yes
Price: INR 6,645
---
12. Happiness Welcome Kit
New employees with a sweet tooth will highly appreciate this new hire swag. This is because of the delightful items in this gift kit. A happy employee will eventually lead to a happy organization. Appreciated team members are likely to go out of their way to give their best at work.
The kit includes: A happiness chocolate bar, a customized note, a water bottle, pen and a customized notebook.
Customizable: Yes
Price: INR 1,435
---
13. New Employee Welcome Kit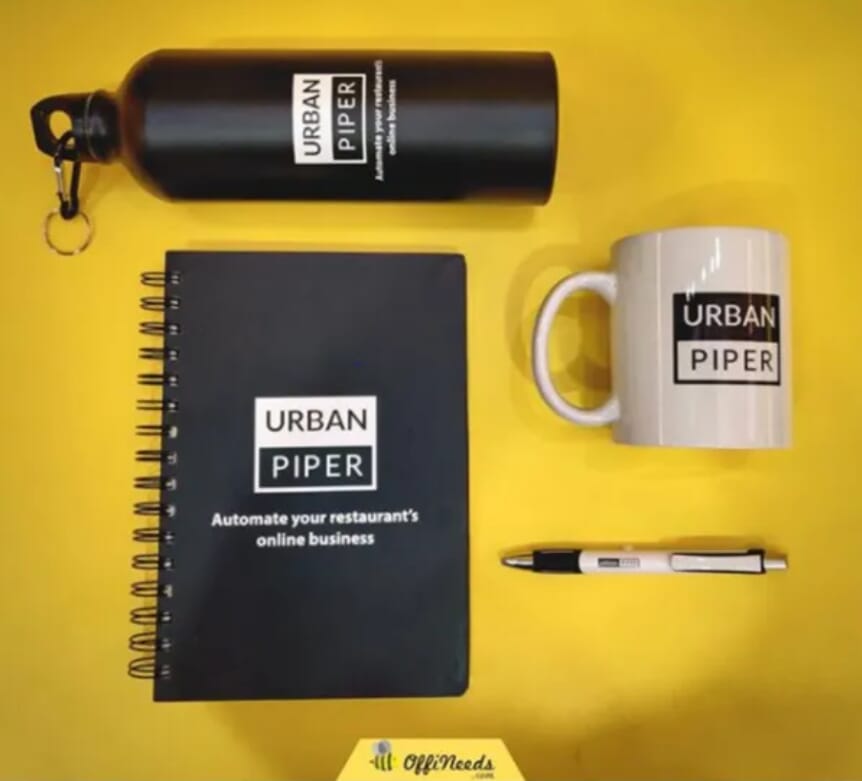 Among other employee kit ideas is the Urban Piper welcome kit. It is useful for the new joinees and it will help them feel welcomed and appreciated right from the first day. When the employee is given such a grand welcome, they will enjoy working.
The kit includes: A customised notebook, a pen, metal bottle and a customised mug.
Customizable: Yes
Price: INR 615
---
14. Spirit-Boosting Onboarding Kit
A customizable gift box with premium corporate gifts. It can be used to bedazzle the recipient on their first day or show existing employees appreciation. Regardless of the scenario, the accessories in this gift box will greatly increase enthusiasm and team spirits.
The kit includes: A jute bag, customizable notebook, daze pen, sublimation mug, sticky bottle in either red, blue or black colour, and a customised box with the company logo, name and the employee's name on it.
Customizable: Yes
Price: INR 1,335
---
15. Sleek-Looking Gift Kit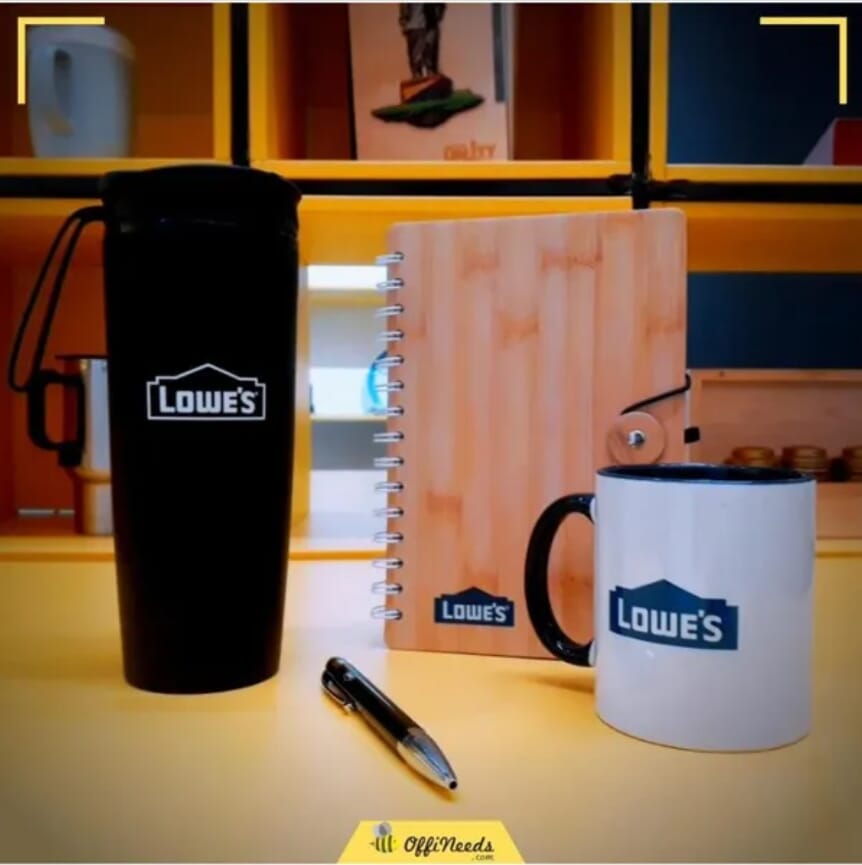 Among versatile gift kit ideas for HR/employee personnel is Lowe's gift kit. It is versatile because it is a perfect onboarding present and can be gifted to existing employees in HR too. This gift kit is a classic way to show appreciation for the hard work your teams do.
The kit includes: A sticky bottle, a customised notebook, sublimation mug and 1 metal pen.
Customizable: Yes
Price: INR 1,855
---
Relevant Read: Learn how to promote your business with corporate gifting items?
Bonus Welcome Kit Ideas For New Employees
We present you with one of the leading corporate gifting platforms in India called OffiNeeds. Apart from the best curated welcome kit ideas for new employees, they also have a range of other corporate gifts for companies to give employees on a variety of occasions.
These include expensive gadgets to personalized kits, with the most popular choices being apparel, office accessories and tools, gift hampers, eco-friendly gifts, gourmet snacks, and more. OffiNeeds' corporate gifts cater to a range of budgets and preferences.
The cost of welcome kits ranges between INR 1000-2000, on average. With regards to corporate gifts for occasions, the price range is wide from INR 150-3000, on average.
Final Words
Welcome kits can help organizations smoothen the onboarding process of new employees. On receiving thoughtful gifts on their first day at work, new joinees are bound to feel welcomed and comfortable in a new environment. It is a perfect ice-breaker to bond with your employees and motivate them to focus better on their jobs.
Need help in planning or selecting the right corporate gifts? Visit Corporate gifting hub by OffiNeeds to get solutions for your every need.
---
FAQs
Is the new joinee kit and onboarding kit the same?
An employee joining kit is usually a warm, welcoming gesture that can make an employee realize the effort their company is willing to invest.
An onboarding kit is what employees receive after orientation.
It contains utilities for daily use with the company logo imprinted on them to make them feel like they are already onboard with the team.
What's the price for a Custom onboarding welcome kit?
The total cost of the gift would depend on the products chosen inside the gift box. Gift boxes can be made starting at Rs 600-700 per box. However, a majority of our clients create gift boxes with products in the budget of Rs 2000-Rs 3000 per gift box. Contact Offineeds team and get a free quote on your welcome kit requirement.
What should be in a new hire welcome kit?
When a new employee joins a company, it takes a certain amount of time for them to start feeling like a part of the company.
It can include a lot of daily essentials that an employee may need like a laptop, notebooks, key to the building, and other goods like t-shirts and caps with the company logo on them. It's on companies to design their own employee welcome kits. Get unique corporate gift ideas for employees and clients.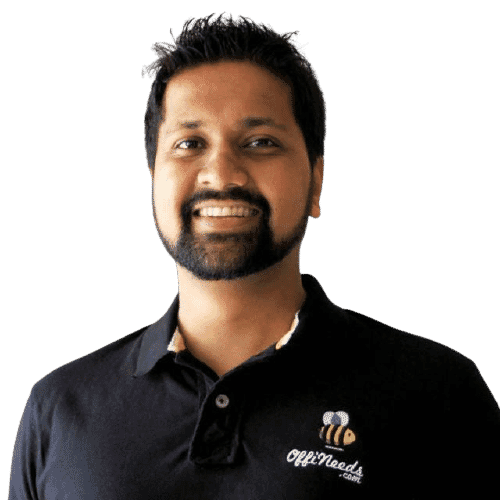 I am Srikanth Acharya, CEO at TheHomeOffice.in & OffiNeeds.com. TheHomeOffice helps professionals work more efficiently from their homes and at Offineeds, we help companies create #BrandAmbassadors through #CorporateGifts.