Celebrating the 15th Anniversary of Offineeds
It's amazing that a company that started as an April Fool's prank made it 15 years and has seen such great success. In case you're wondering about the April Fool's prank, read here.
This business was founded by Srikanth Acharya and Srinath Setty in 2005 as Gift Wrapped. Over the years, it has evolved beautifully. Here's a quick timeline:
To celebrate #15YearsOfOffiNeeds, the entire team travelled to Candolim, Goa and had a 3-day blast! Here's what we believe made the celebration unique: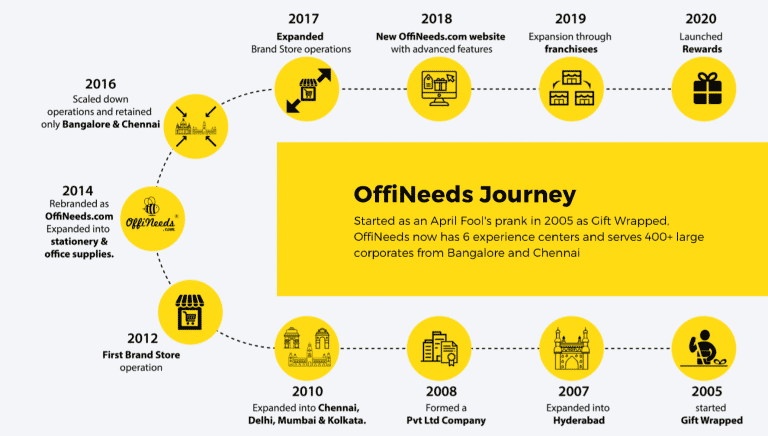 1. Plastic Water Bottles Consumed
OffiNeeds is a very eco-conscious company. So, we decided that the entire team will not consume any packaged drinking water. We carried our own water bottles customized with our branding. We specifically instructed the bus and the hotels to not give packaged water bottles to anyone in the team. We filled our bottles and carried them everywhere.
Both the bus operator as well as the resort we stayed at, were surprised by our request. It seemed like they'd never heard of such a request. They said, large groups usually only ask for more bottles to be given for free.
Considering 45 people were in a hot, humid, coastal town for 3 days, roaming under the sun all day, we would have saved at least 500 plastic bottles from entering the ocean or getting into a landfill.
So, we made it look like this: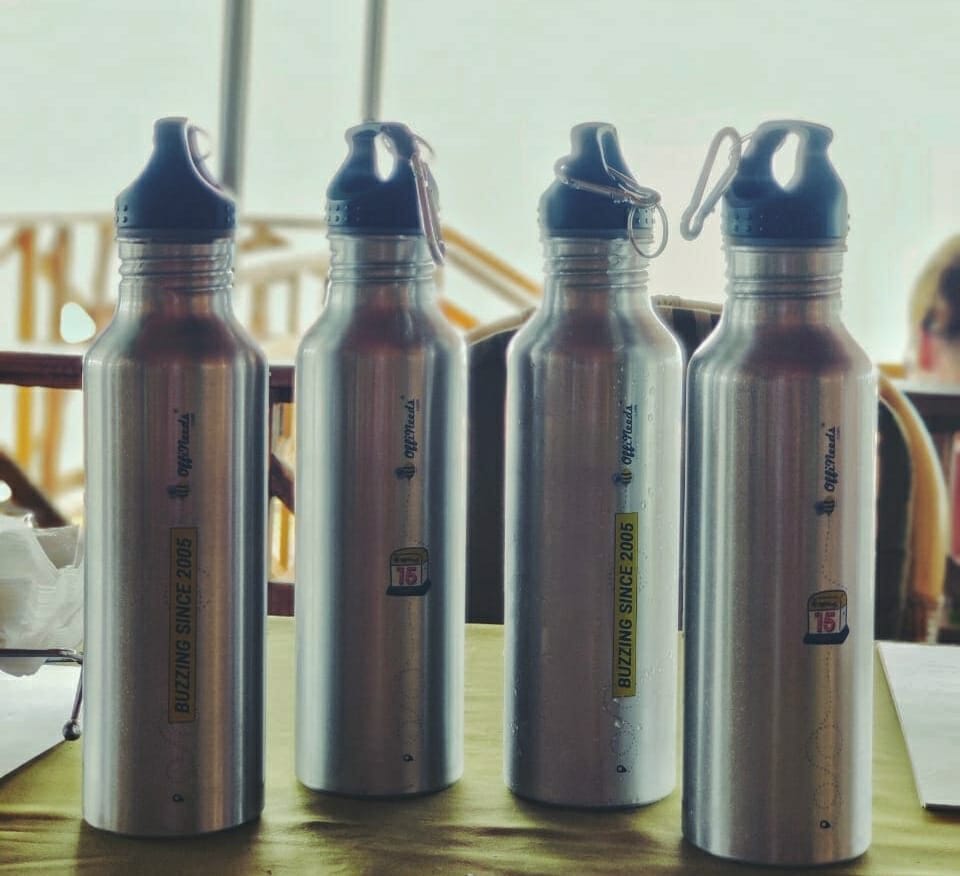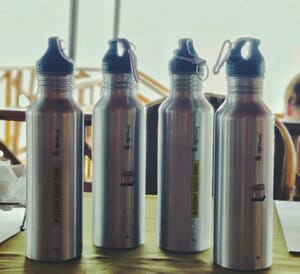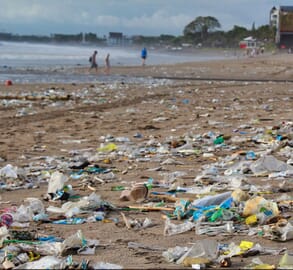 2. Fantastic Goodies Bag for everyone in the Team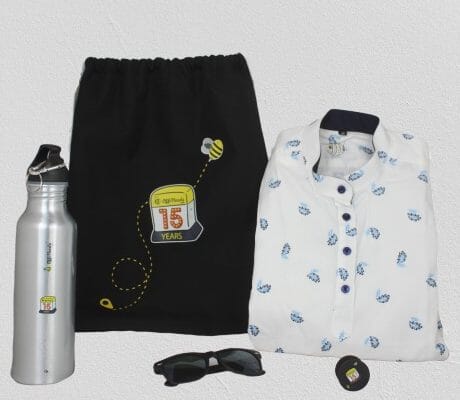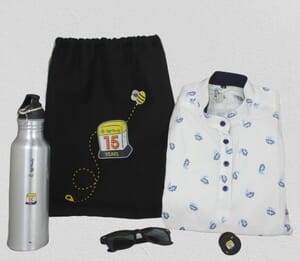 We have delivered numerous goodie bags for several of our clients. For a change, we made a lovely goodie bag for our own team. It included a string bag, a metal water bottle, a mobile pop socket and a Goan themed Floral shirt.
3. Floral Goan Themed Shirt
We do T-shirts all the time. So we wanted to do something that was very "Goan". We handpicked printed fabric that was 100% cotton.  We wanted to ensure its not too bling. Once we found the perfect design, making shirts for men was easy. 
But we wanted to get it right for our women too. We got into the act and created a unique style. The outcome was amazing! Doesn't the team look awesome in these shirts?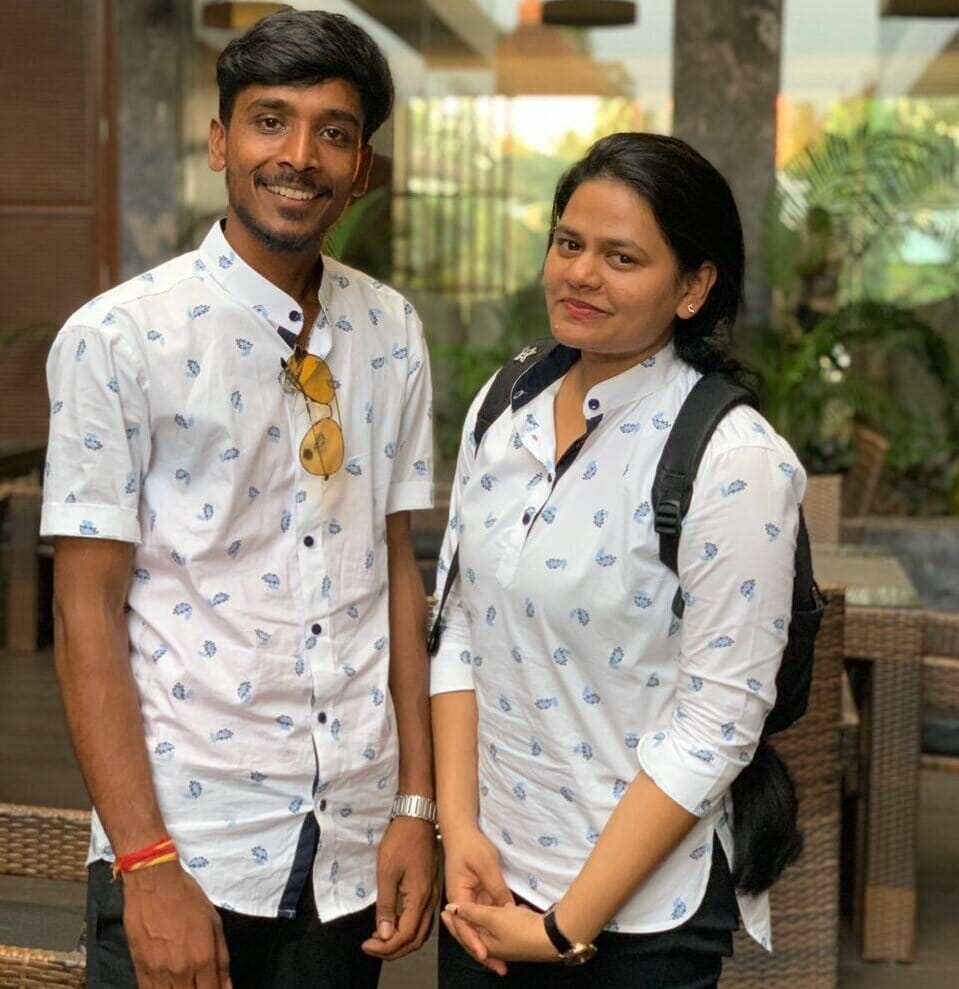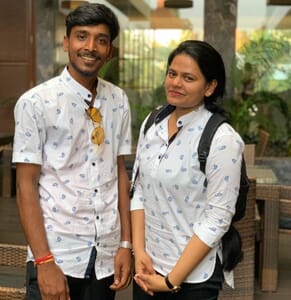 4. Sun, Sand, great Food and Fun
Without a doubt, Goa is one of India's most aspirational holiday destinations. And the movie Dil Chahta Hai had its own role to play in giving Goa this status.For many in the team, this was their first trip to Goa. 
For almost everyone, this was the first group outing after school/college.The weather was perfect for the trip. Summer had just about started. So it was cool in the evening and the scorching Goan heat had not yet hit its peak. 
Everyone in the team took full advantage of this and put every minute they had going places and having truckloads of fun. 
These pics will tell you the story…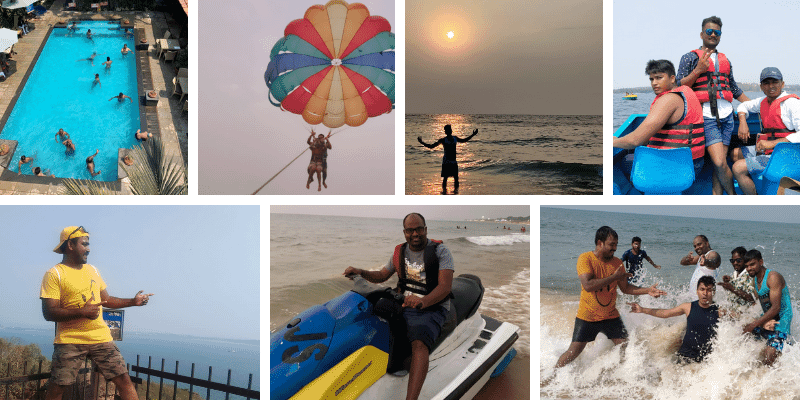 5. Team Building and Bonding at its best
A team that has fun together, sticks together and grows together. We saw this in action in this trip. To add to the organic bonding that was anyway going on, we included a team-building activity in our conference. This worked like rocket fuel and got us all even closer!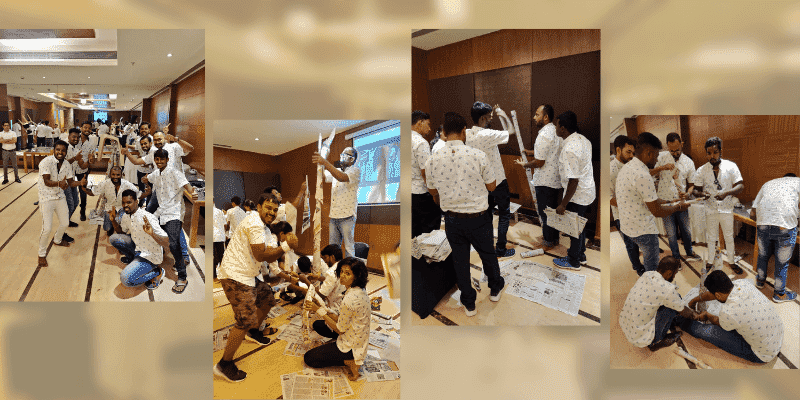 6. 15 Years Milestone fondant Cake
 You might think, how can a cake make the celebration unique! But just look at this cake! We had created a logo on a milestone to mark 15 Years of Offineeds. We were thrilled to find a bakery who were willing to make a fondant cake in this shape in such a short timeline. Check out the Bee buzzing around. Is that cute or what!! This cake pic seems to be the most popular on social media. Everyone on the team wanted a selfie with the bee…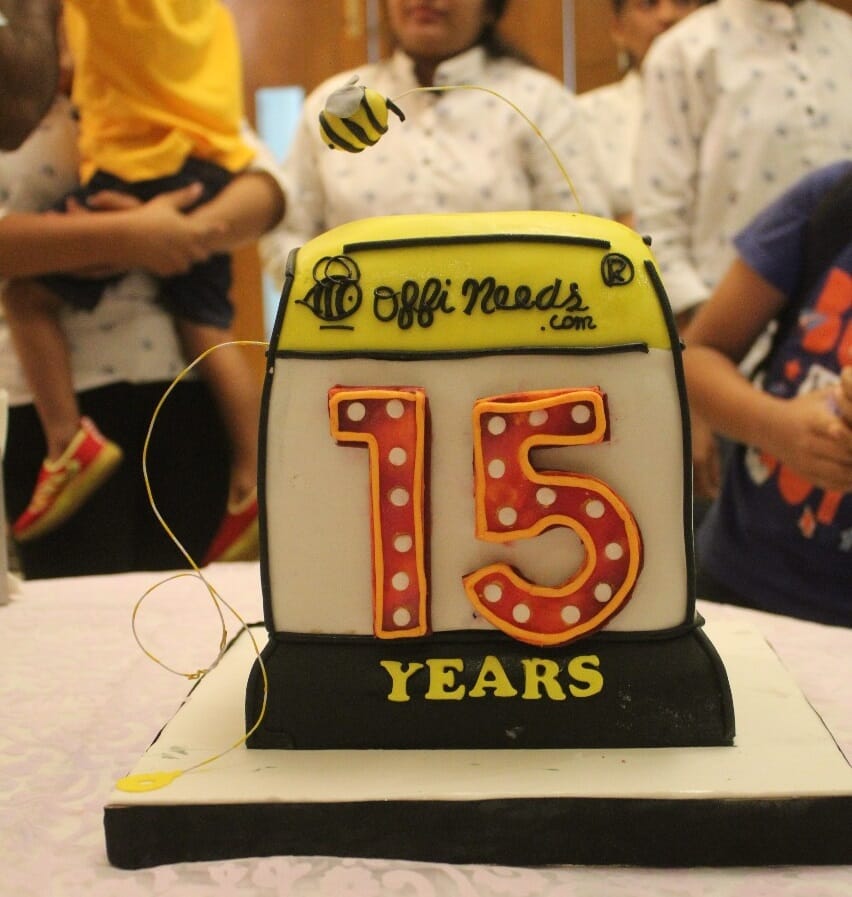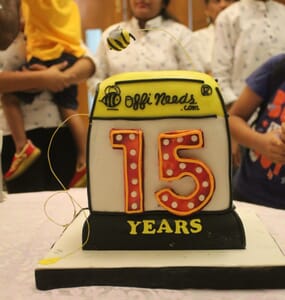 7. Mission 2020 for OffiNeeds
"To be South India's #1 Corporate Gifting company by end of 2020"
This year, we are going to be #1 in terms of
Product Range
Customer Experience
Speed & Quality of Delivery
 The fact that this mission got a thundering response from our team, is an indication of how obsessed we are going to be about achieving it.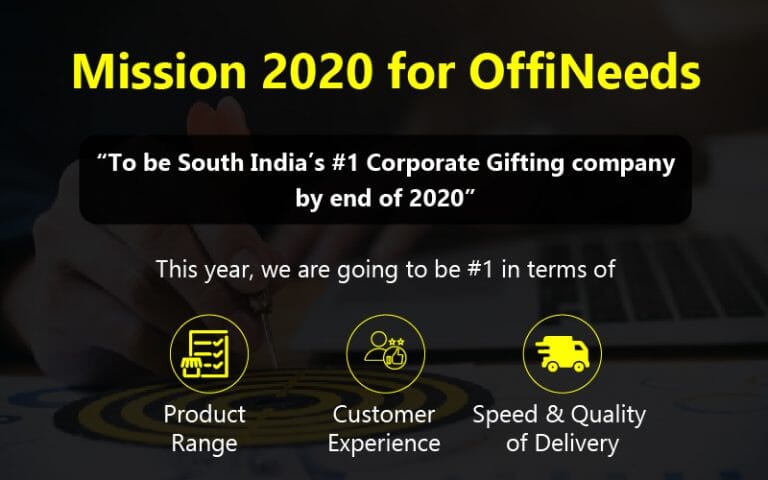 8. Presentations from everyone in the team
The business presentations, explaining what everyone should expect from their team in 2020 was clear and crisp. For most people, it was the first time they were making a business presentation to an audience and they all did a phenomenal job!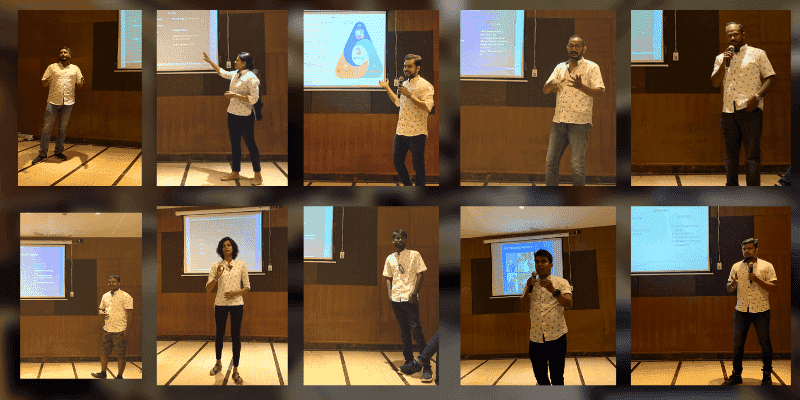 Niraj, Prabin and Shankar received "Exemplary Employee of 2019" award for unique initiatives they had taken. 
Ganesh, Ivan and Jagan received "Sales Superstar of 2019" award for their outstanding sales performances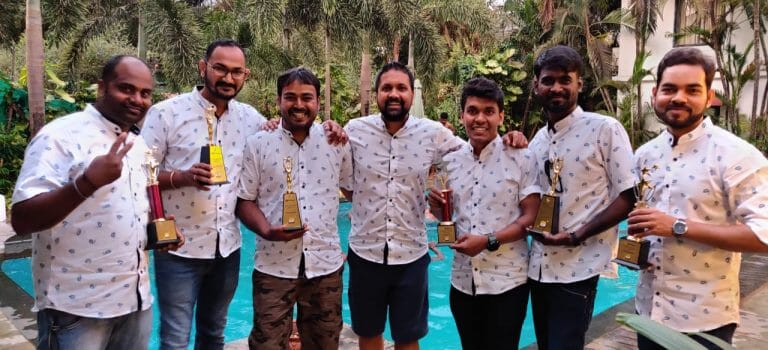 10. Everyone Danced Like Crazy
Dancing is the best way of letting go of your inhibition.
While several parties happened among small groups, the best one was at the full team dinner. Calamari's Bathe and Binge is a top-rated seaside restaurant. There was live music that night and nothing was as exciting as watching the entire team dance like mad.
From the CEO to the delivery boy, to award-winning performer, to the kids in the group, to wives of staff, everyone was breaking the dance floor.
11. Launch of Gold Club Rewards program
On the occasion of our 15th anniversary, we launched the OffiNeeds Gold Club Rewards program for our repeat customers. This program will reach our customers in phases over the coming months and will become a regular offering to all our customers soon.
This is our way of expressing gratitude to customers who have given us opportunities to serve them.

The bus was an energy machine. The disco lights were on and the party had started on the journey to Goa itself!
13. #15YearsOfOffineeds hashtag gets amazing reach
 The hashtag #15YearsOfOffineeds started trending within 2-3 days itself.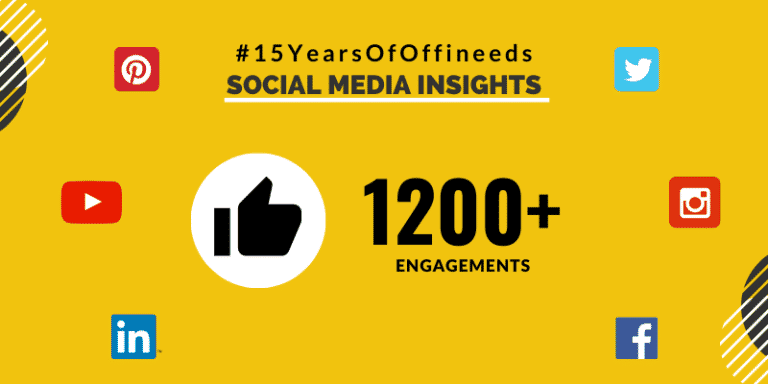 14. Families get involved in the celebration
At OffiNeeds, we strongly believe in managing a very good work-life balance. We had asked our team to get their families along. It was very endearing to see spouse and kids of our team come and celebrate with the team.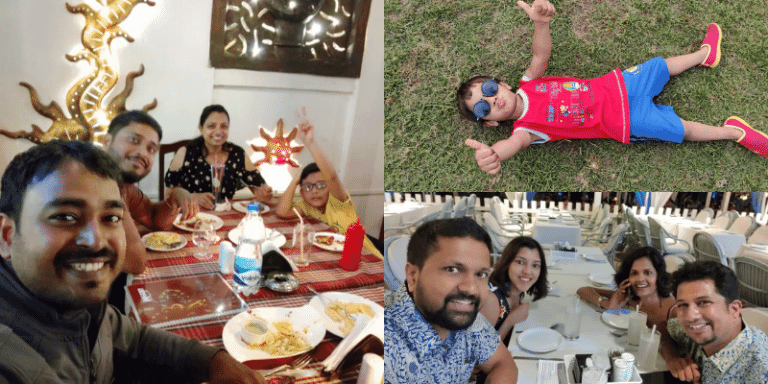 The outcome of this celebration is very clear. Every member of the team is super charged up. Every member is even more committed to out-performing and ensuring we achieve Mission 2020!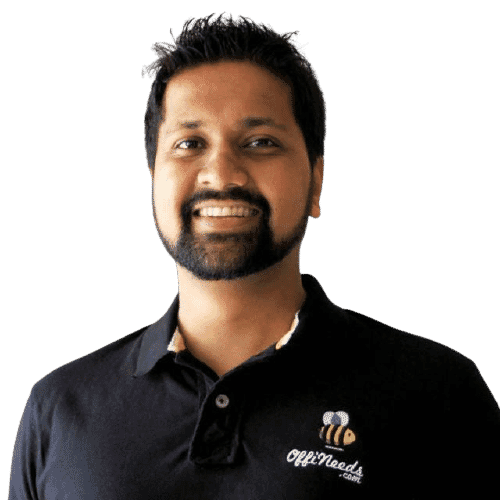 I am Srikanth Acharya, CEO at TheHomeOffice.in & OffiNeeds.com. TheHomeOffice helps professionals work more efficiently from their homes and at Offineeds, we help companies create #BrandAmbassadors through #CorporateGifts.