Women's Day Gift for Smarsh
OffiNeeds and Smarsh have had a 3-year long, thriving business relationship. The Bangalore unit of the international IT company, has worked with OffiNeeds for the procurement and distribution of corporate gifts.
"Every project has stood out. Each one has been better than the next." says Mr. Pradeep Kumar, an Admin at Smarsh, incharge of resources and procurement.
OffiNeeds and Smarsh began their journey together in 2019 with an order for T-shirts for Smarsh employees. OffiNeeds is now a regular vendor at Smarsh. Together, we have worked on New Joinee Kits, Offer Acceptance Kits, and more. These kits come loaded with goodies like custom Jackets, yo-yo's, mobile phone pop-sockets, diaries, flasks, and tote bags.
"My favourite so far has been the Women's Day Project. Ganesh from OffiNeeds gave me so many great options at amazing prices." says Kumar.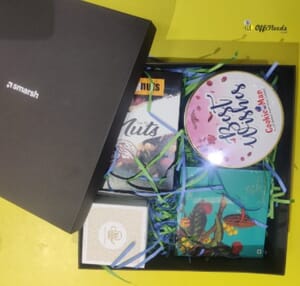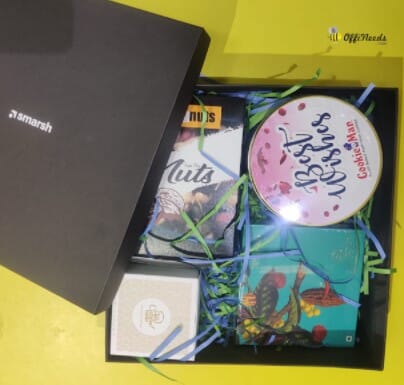 The Women's Day 2021 project was focused around kits for the women of Smarsh to convey how valued they were to the organization. The Smarsh Women's Day kit was curated to include: Smoor Luxury Chocolates, Flavoured Tea, Cookie Man Cookies, Trail Mix, all put together in a custom made dye-cut box, with shredded paper fillings and a custom greeting card.
Smarsh, having a team of almost 60 women, was able to spread the joy of Women's Day with this one-of-a-kind kit that received praise from employees.
My overall experience with Ganesh and OffiNeeds has been very comfortable. Ganesh is always available, gives me multiple options and makes the selection process very easy for me." Kumar says.