10 Employee Retirement Gift Ideas For 2023
After spending decades together in a grinding work routine, retirement can be a mix of relief and sentimental for soon-to-be retirees. So, what better way to send them off to a happy retirement life than gifting the most memorable retirement gifts?
We've carefully curated the best retirement gift ideas for coworkers from our years of experience in the corporate gifting industry, and we can't go wrong! In fact, it would be helpful to know about these thoughtful retirement gift ideas in advance, so you can plan better and not end up with a lame gift at the last moment!
In this guide, you will discover:
Top retirement gift ideas for clients, employees, and HRs
1. GiftKart: Custom company store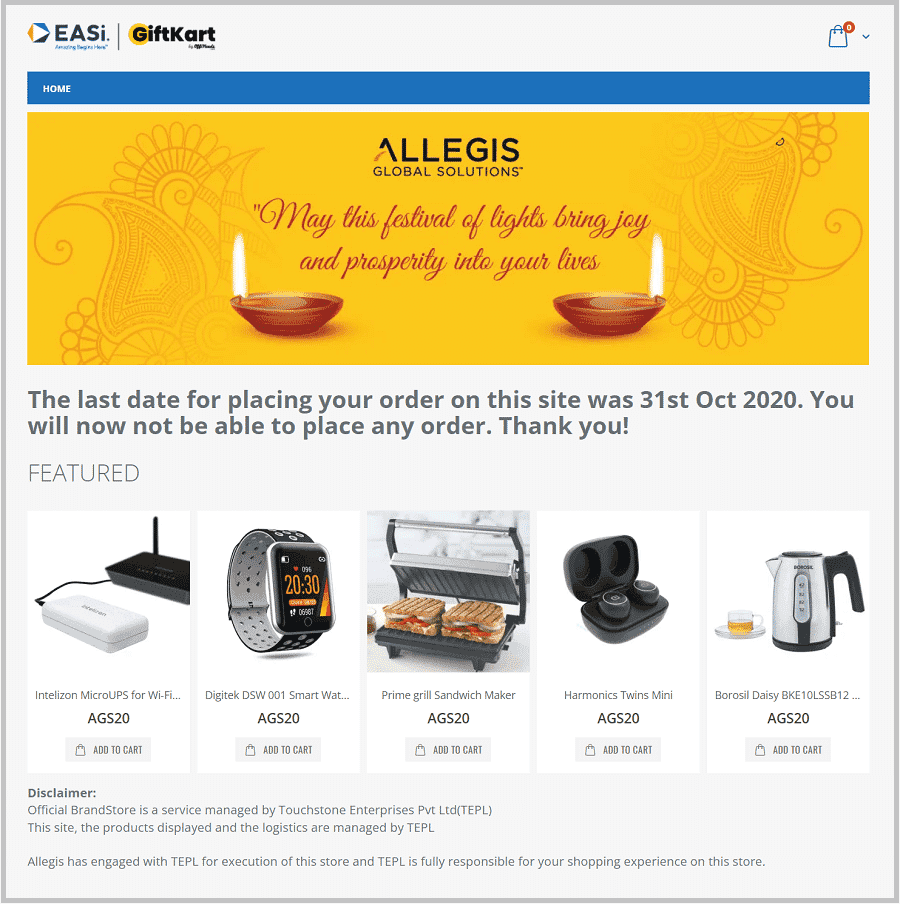 Why choose custom company merchandise store?
Give the gift of choice through GiftKart. With a microsite specially built for a cohort of employees, you don't have to worry about them liking your gift choice.
With GiftKart, you can create a gifting microsite for your retirees using three simple steps
Shortlist 3-6 different products that are retirement-friendly to create a microsite.
Your soon-to-retire employees pick the gift of their choice and share their shipping address
You get a live dashboard to track progress while gifts reach their homes.
Here's how you can create a customized company store with OffiNeeds:
Shortlist 3-6 different products in a similar budget and we'll create a microsite for you.
Let your employees choose their gift and share their accurate shipping address.
Their choice gets shipped to them. You get a live dashboard to track progress.
How much does it cost to build a microsite for employees?
If the total order value is more than Rs 2L + GST, the microsite will be created by us at no extra cost. For order value less than 2L + GST, the microsite will be charged at Rs 10000 + GST.
Build your custom corporate microsite
2. Corporate gift voucher and cards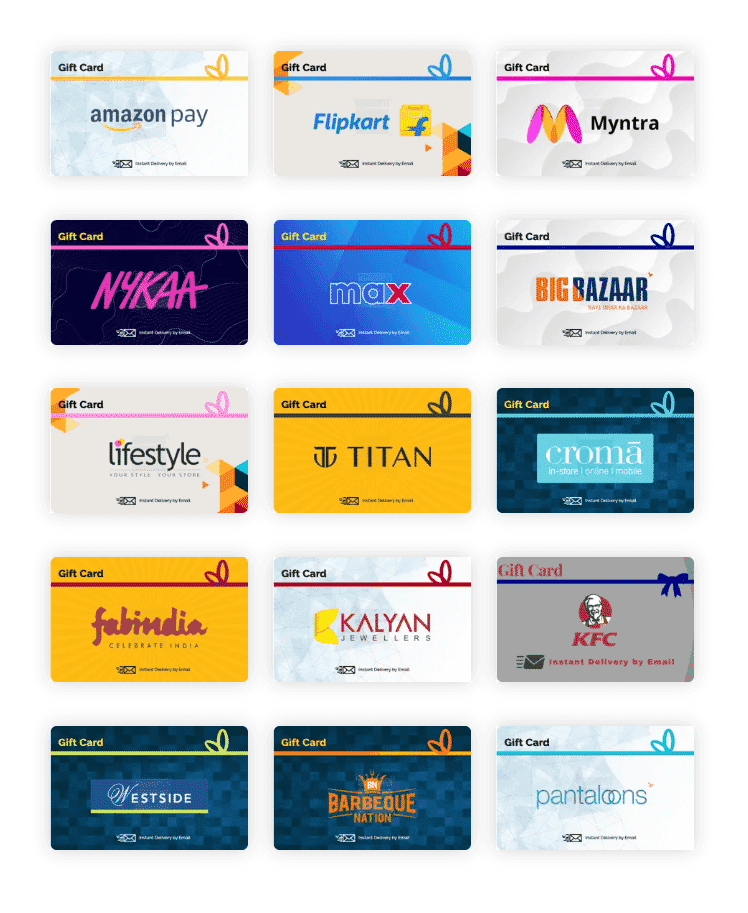 Why choose gift vouchers?
Gift vouchers are a great way to keep your employees connected even after leaving your company—they can redeem goods or services from businesses you trust. This way, you'll always be able to support your former employees in whatever they choose to do next!
Gift vouchers are also great because they allow your employees to decide what they want most from their retirement gift—maybe just some tools and supplies for their new home-based business idea or a fitness tracker to stay active and healthy.
With OffiNeeds' Gift Voucher, you can give gift vouchers from over 500 brands with lifetime validity. You also have the flexibility of emailing the recipients with their gift vouchers or sending physical reward coupons in a beautifully sealed envelope.
Order corporate gift vouchers on budget
3. Corporate gourmet Gift Basket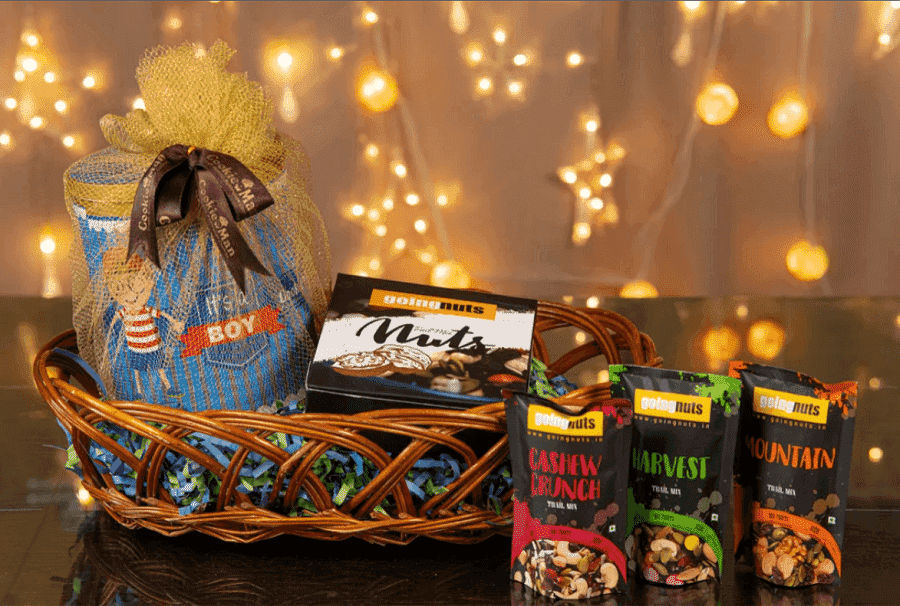 Price range: ₹425-2995
Why choose gourmet gift basket?
Send-off can be pretty emotional. So, a gourmet gift basket can make things sweet and memorable.
The gourmet gift baskets come with an assortment of rich dry fruits and nuts. They're not just tasty and crunchy but super healthy. You have a wide range of options to choose from– from homegrown brands to some well-known names. The hampers come in different forms, like in a string sack, a basket, premium gift boxes, and even eco-friendly packages. The choices are many with OffiNeeds. Choose the one that works well for you!
Buy corporate gourmet gift baskets
4. Corporate Travel Bag
Price range: ₹360-5,845
Why choose travel bag?
Your retirees now have the freedom to do things they've always wanted– vacation, road trips, visiting extended families, pursuing a new hobby or interest. So, gifting a travel bag can be thoughtful.
If you're looking for a gift that will give your retiree the freedom to pursue their passions, look no further than a travel bag! This versatile bag can be used for overnight trips and extended stays away from home — so no matter how long your retiree is gone from home, this bag will keep them organized and prepared for whatever comes next.
OffiNeeds has a massive collection of travel bags in different sizes, materials, and styles. Trolleys are suitable for train and air travel, duffel and backpacks for road trips, and leather bags for the vintage-lovers.
Shop corporate travel bags on budget
5. Premium Pens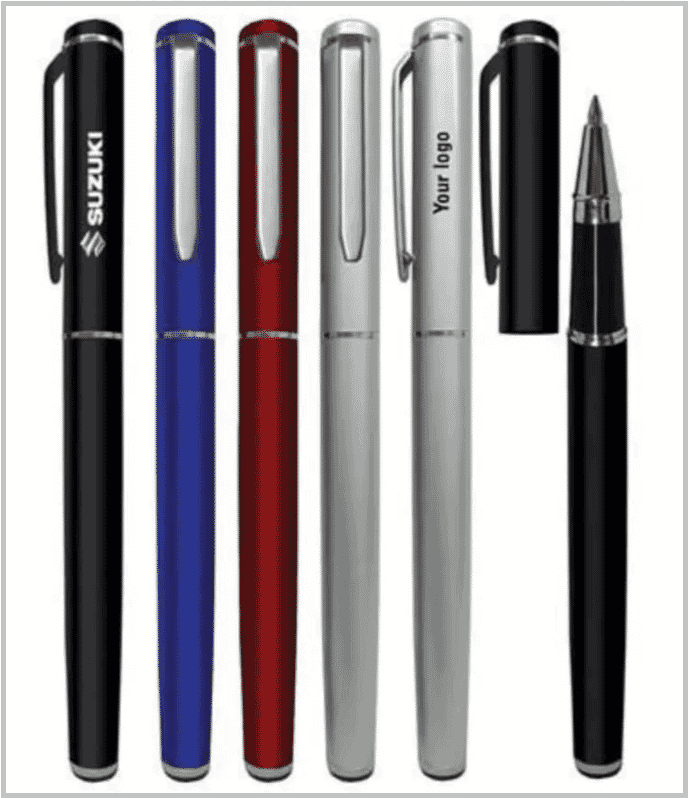 Price range: ₹1000-3400
Why choose promotional pens?
Pens hold very sentimental values. With your company name and logo, a premium pen as a gift will have a special place in the retiree's pen stand.
The pen is a practical and professional gift with high usability. It also signifies freedom and creativity– the two aspects that retirees will most likely enjoy after long service at work. A premium pen will help them write down all the fantastic stories from their past and make them feel like they're still working. Any premium promotional pen of your choice can be customized with your company name, logo, and the retiree's name.
Buy promotional personalized pens
6. Corporate Certificate Frames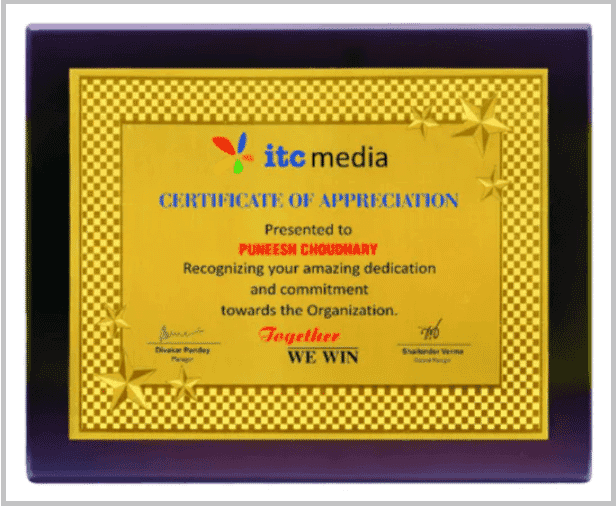 Price range: ₹6,395
Why choose certificate frames?
Make the journey at your organization very memorable for your retirees with a corporate certificate frame.
Awards and recognition are special. And a long-service award on completion of the professional career is worth treasuring. The perfect way to cherish the recognition is through a tamper-proof certificate frame.
Buy corporate certificate frames online India
7. Apparel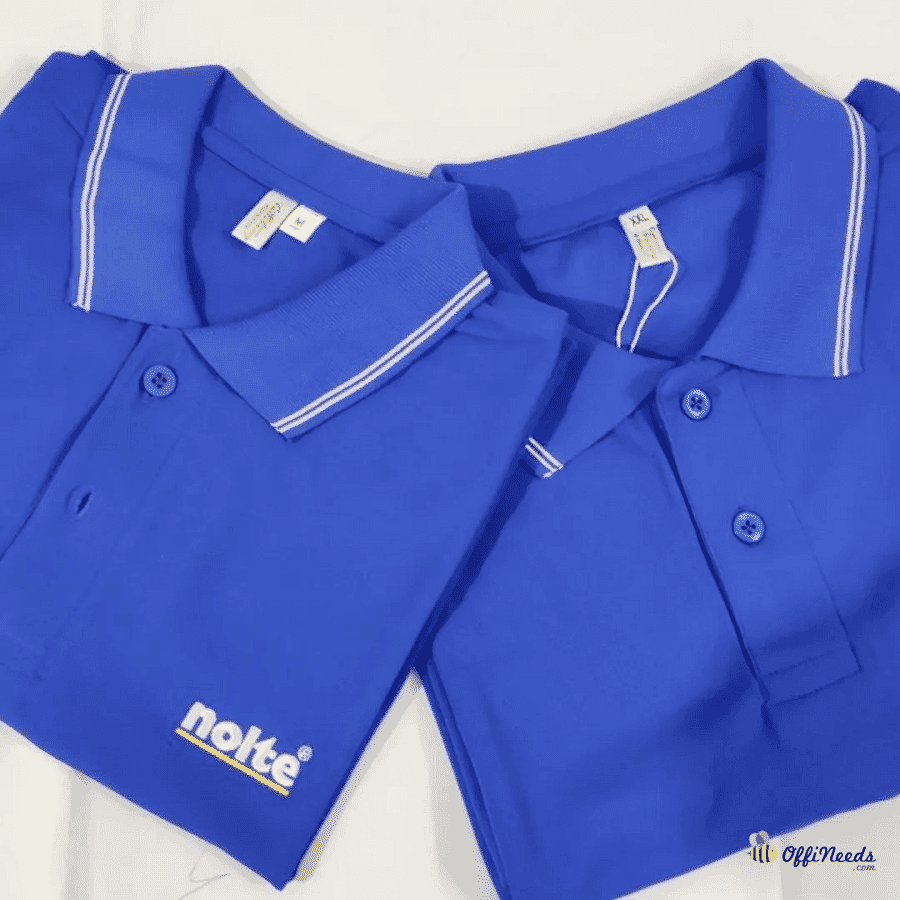 Price range: ₹145-1,745
Why choose corporate apparel?
You get free branding while also making your employee feel good about wearing company-branded apparel.
Apparel is a convenient gift and can be used repeatedly. They're also economical yet delight the recipient like no other. At OffiNeeds, you have several options to choose from– t-shirts, shirts, jackets, hoodies, hats, and caps. You also have the opportunity to customize the apparel with the wording of your choice, along with your company name and logo.
Shop corporate t-shirts online in India
8. Fitness tracker
Price range: ₹400-18,391
Why choose this gift? Retirement can give ample time to pursue activities of one's choice. But, sometimes, it can also induce boredom. So, gift a fitness tracker to give them reasons to get active!
A fitness tracker can be an excellent way for your retiree to stay on top of their health and wellness goals. They'll be able to track their steps and calories burned and monitor their heart rate throughout the day. In addition, if they have an iPhone or Android phone, they can connect the app with other apps like Apple Health and Google Fit. This will allow them to see how their activity levels compare with previous days or weeks.
Order this product here
9. Self Care
Price range: ₹348-1695
Why choose selfcare gifts?
Because they deserve some form of pampering and adding a self-care gift to the retirement gift box can elevate the personal experience. So many wouldn't have had time to indulge in a spa. So with ample time in their hands, a spa with all the exotic ingredients is perfect for pampering themselves! Because if they don't, who would?
10. Kitchen Appliances
Price range: ₹1,000-9,995
Why choose appliance gifts?
Kitchen appliances are timeless gifts that are everyone's favorites. They make our everyday lives easier. And they can do just that for your retirees.
The kitchen appliances in our catalog are available for every budget– big and small. From the humble coffee maker to the luxurious air fryer, choose the one you think your retiree will like the most. Or even better, add the appliances into the GiftKart for them to make the selection of their choice.
Buy home and living accessories
Benefits of Offering Employee Retirement Gifts
Showering employees with gifts is an absolute way of sending a message that you notice their hard work and the value they add to your business.
1. Expresses your gratitude
Retirement gifts are a great way to honor someone who is retiring. Gifts also express your gratitude for their loyal service and dedication at work.
2. Appreciates the hard work & contributions
Gifting helps convey your appreciation for the hard work and contributions your employees have made toward your company's growth.
3. Boosts employee morale
Sending thoughtful gifts to retirees helps boost your employees' satisfaction and attitude towards the organization. This helps in retention and greater productivity.
Related read: Learn how to build a employee recognition program
4. Marketing and brand awareness
Customized gifts with your company name and logo are an excellent way to increase brand recognition and awareness without spending a rupee on promotions. Moreover, visitors have a high chance of asking about the retiree's work accomplishments upon seeing the trophy or certificate frame. So, it's a proud moment for the retiree and an incredible opportunity for your company's branding.
5. Enhances reputation
Gifting helps enhance your organization's reputation as one that delights its employees and business associates with goodies. This also helps strengthen connections for future business opportunities.
Related read: 12 Corporate gifting trends of 2023 to follow
How much should you spend on a retirement gift for an employee?
Retirement is a significant milestone, and it's essential to give the retiring employee a gift that reflects how much you appreciate them.
Research shows us that most (67%) organizations already have a well-defined corporate gifting budget. This is not a surprise, as studies also indicate that the corporate gifting industry in India is growing at a tremendous rate of over 200% per annum. The same research also suggests that a majority of gifts given were in the range of INR 1000-5000.
A retirement gift is special for the receiver as this could be the last corporate gift (unless they take up another job post-retirement) in their career. Putting together the two research findings, the assumption is that you already have a budget set aside, and the spend amount is also defined.
But, since the retirement gift is a rare spend as relatively few employees retire every year, you can go overboard and choose to delight them extravagantly.
We recommend sticking to INR 1000-5000 if your budget is fixed. And maybe stretch to INR 10,000 if you have the scope for it.
Related read: How much to spend on employee gifting
How can OffiNeeds help you with your Retirement Gifting needs?
Retirement is a big deal. It's the end of one chapter and the beginning of another. And while it might be hard to find the right words to say goodbye to your employees, there's no better way to let them know that you care than with a gift.
Our extensive and advanced gift catalog features over 4000 unique products from more than six different categories making it easier for you to select your gifts. For the past 17 years, we've served as the official gifting partner for more than 6000 organizations. That makes us a corporate gifting expert with various gifting models that suit your budget, occasion, and needs.
Gift-giving can be stressful. Knowing that we made it easier for you! Check out the OffiNeeds website and start your corporate gifting journey with ease in four simple steps:
Use the search feature to look for your gifts
Add them to the cart
Download your custom catalog
Get in touch with our gift advisors or visit our branches for help along the way!