How To Create a Branded Merch Store For Employees and Clients in 2023
Corporate gifting is a great way to connect with your employees and clients, show them your appreciation, and deepen the existing relationship.
Giving them products (gifts) that carry your company's logo creates a positive connection and  instant brand recognition. They're constantly reminded of your company when they take them home, wear your product, or display them. And a branded merch store simply aids in corporate gifting, removing added layers of people, time, and effort to offer memorable and powerful opportunities for employee engagement.
In this guide, you'll learn how to create a branded merch store for your employees and clients, making gifting easier and happier.
What is a branded merchandise store? 
A branded merchandise store is a fully tailored store (microsite) for your company's merchandise. You can provide branded goods in the store through a microsite, like T-shirts, hats, laptop bags, water bottles, keychains, etc.
With a custom merchandise store, your employees can choose from various products made available to them carrying your branding.
Benefits of building a merchandise store for employee engagement
1. A powerhouse of employee engagement
Branded merchandise is a powerhouse of employee engagement because of its ability to express gratitude, appreciation, and recognition. It also energizes employees, spreads happiness, and nurtures an environment of recognition.
2. Physical connection
Branded merch is the easiest and fastest way for brand recall. Plus, a tangible product in hand is a sure way to give your employees a physical connection to your brand.
3. Endowment effect
Branded merchandise creates the endowment effect where the person values the item more highly due to a sense of ownership the physical object provides. This, in turn, will influence the trust, reciprocity, and, eventually, loyalty of employees.
4. Uniform experience
Your employees can access the same merchandise experience from any location with a BrandStore making meaningful engagement. Products, materials, quality, and customer care do not change with the location.
5. Gift vouchers
Your managers may send corporate gift vouchers to their teams for any occasion or a job well done without having to go through the accounts team for approval every time. This gives a sense of freedom, and the recipients get to choose the product of their choice with vouchers.
📌 Relevant read: Best corporate gifting companies and websites
6. Marketing and brand promotion
Merchandise can also be used as a marketing tool to promote the company's brand and increase visibility. Customers and clients may be more likely to remember and recommend a company if they see its employees wearing branded clothing or carrying branded accessories.
How does a custom merchandise store work?
Most businesses currently engage in the practice of giving gifts to their employees, as well as occasionally to clients, distributors, and suppliers, to foster relationships and boost morale.
Traditional corporate gifting approach
Typically, you would contact one of our gift advisors, who would then assist you in selecting the ideal product, tailoring it per your branding guidelines, and placing the order for the desired item.
Here, you don't have to bother about procurement, inventory management, or delivery status because the gifts are promptly delivered to the recipient's address. And you go through the same procedure each time you send gifts.
It's great; it works well for you and us. But your employees might not enjoy every gift you send them simply because they have a similar product already or don't see it as useful/valuable to them.
Now you see that your intention and effort in gifting suddenly become futile?
The BrandStore can permanently alter how you provide gifts and merchandise to your employees and clients.
📌 Relevant read: Find 30+ useful corporate gift ideas on a budget
Custom branded merchandise store for employees and clients
Instead of placing orders for specific requirements or occasions in a bespoke merchandise store, we assist you in setting up a microsite with products of your choice that your employees can self-select as gifts or incentives.
The BrandStore offers your employees a fun shopping experience with various products to choose from while carrying the style and feel of your brand.
Custom branded store to sell customized merchandise
Similarly, having a BrandStore can be helpful if you're an influencer with a sizable fan base who sells goods and merchandise.
For example, brands like Royal Enfield has built a merchandise store that sells bike accessories and goods to loyal customers.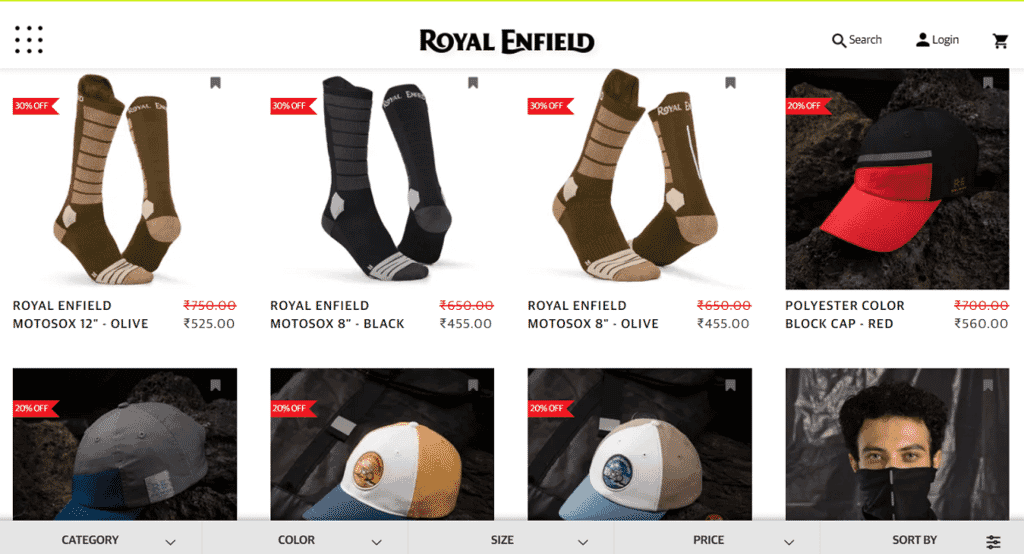 This helps in:
Increased Brand loyalty
Adding revenue generation
Increased brand loyalty
Increased customer engagement
How to create your merchandise store with OffiNeeds?
To set up your company store, follow these simple steps:
Visit this page to build your custom company store
After the discovery call, you'll receive our deck with all details discussed
Fill in our onboarding form
Select your merchandise, and finalize your designs
The signing of the contract
At the backend

We building the store in 2-7 days
Test & optimize
Finalize the merchandise
Discuss the terms

Website Whitelist from your end
Get your website live
Order as many products as you want from us and have them delivered to your doorstep
While the work at our end can be executed in 1-2 weeks, we have observed that it usually takes 30-60 days to go live.
Merchandise store examples built by OffiNeeds
1. Tally 
More than 2 million enterprises globally are supported by Tally, the top provider of business management software in India. As Tally's corporate gifting partner, OffiNeeds delivers corporate gifts and merchandise to employees, clients, etc., through the Tally BrandStore.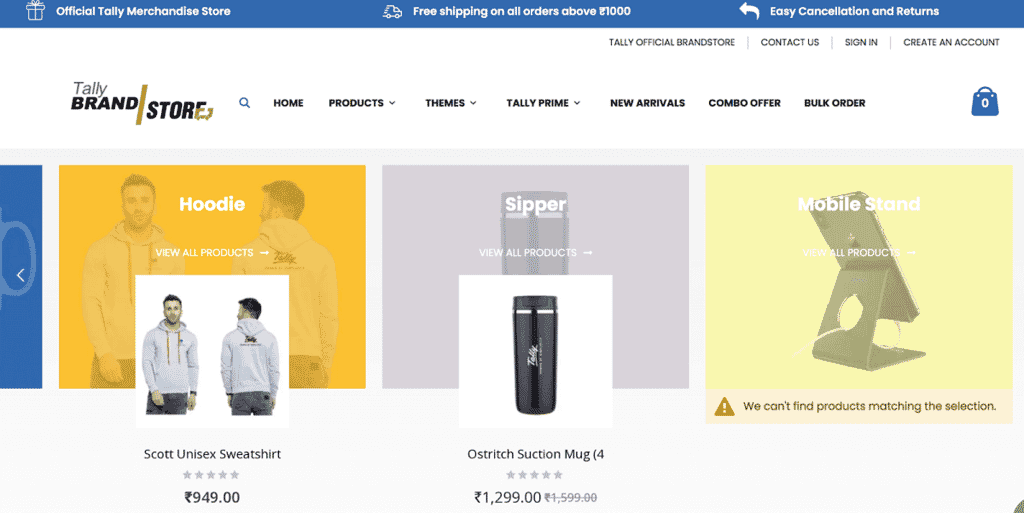 2. Csg 
Csg is a purpose-driven, high-growth SaaS platform firm that helps some of the most well-known organizations in the world overcome their most difficult business challenges, particularly in the telecom sector. Through their official BrandStore, employees and partners enjoy a range of branded merchandise.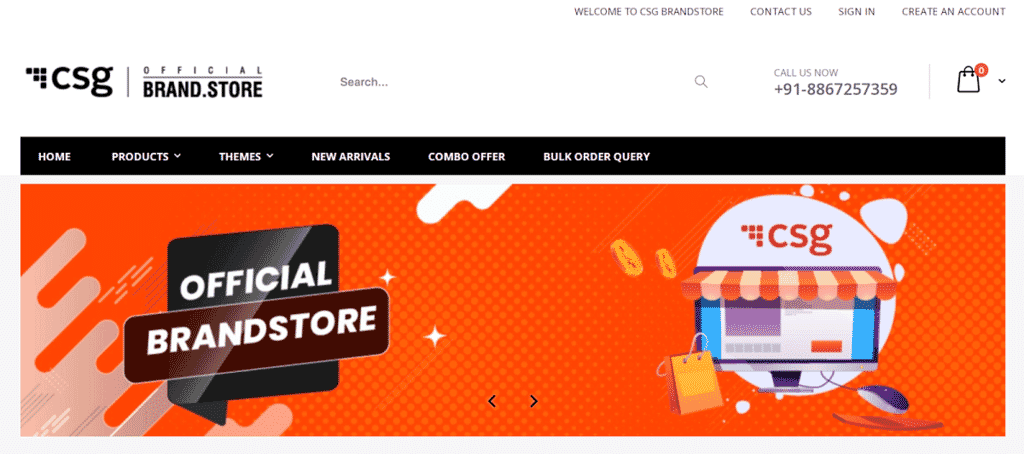 3. RLE 
RLE INDIA creates innovative and efficient solutions for its customers in the business areas of Vehicle & Body, Powertrain & Chassis. The RLE India BrandStore is built to cater to the India team's merch needs and houses a variety of branded products to choose from. 
4. Infosys
Infosys helps clients in more than 50 countries through digital transformation as a market leader in next-generation digital services and consulting. Through Infosys BrandStore, the India team enjoys unique gifts and merch that are high quality, branded, and functional.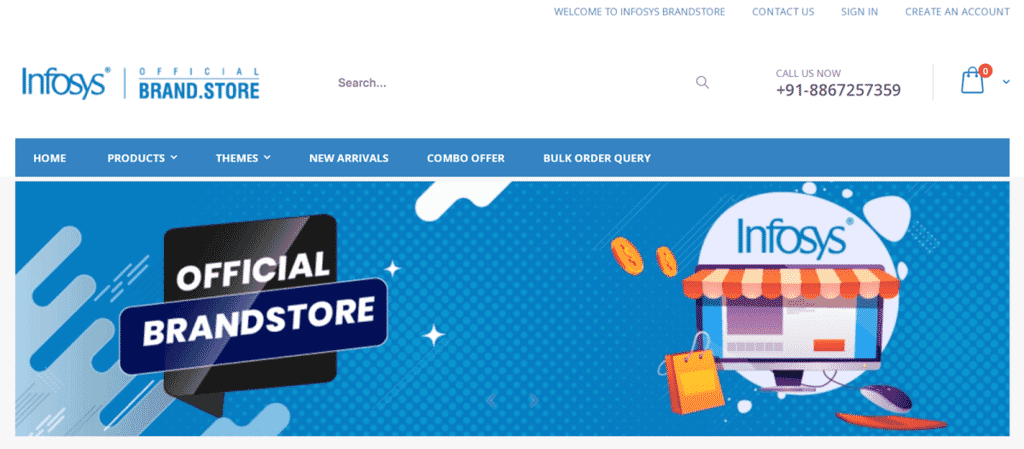 5. Lenovo 
A multinational technology corporation, Lenovo focuses on designing, manufacturing, and marketing consumer electronics, laptops, software, business solutions, and related services. As Lenovo's corporate gifting partner, OffiNeeds supports the branded merch store where employees and partners can shop from.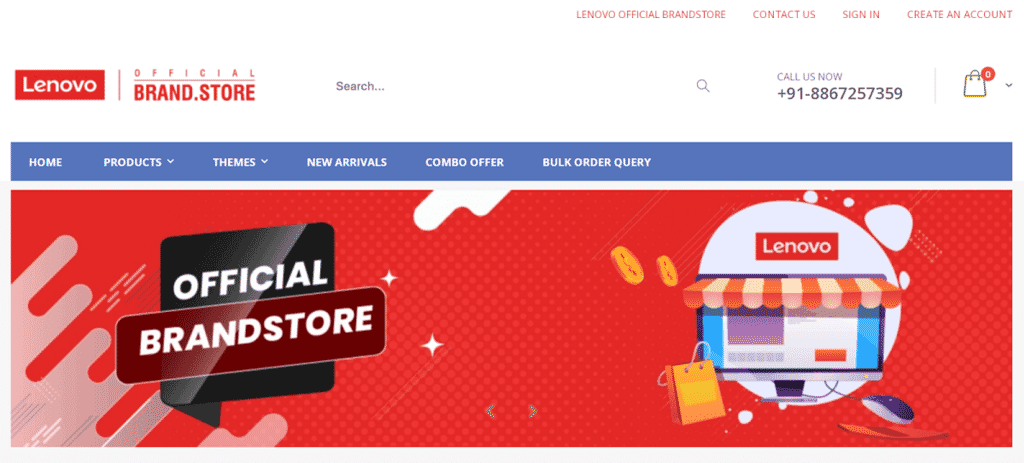 Final Words
The branded merchandise in the hands of your employees not just spurs motivation but also strengthens the thriving workplace culture you're cultivating at your business. 
Corporate gifts and branded items, whether small like a laptop sticker and keychain or large like headphones or Bluetooth speakers, are powerhouses of employee engagement, cementing the relationship between the employer and the employee with elements of surprise and fun.
And building your own BrandStore can make corporate gifting delightful for you and your employees (recipients). 
Ready for a BrandStore of your own? We'll relieve the pressure of identifying the most well-liked gifts by giving your employees a greater variety of choices in a user-friendly setting through OffiNeeds' BrandStore service. 
Talk to our gift advisors today to learn more.

I am Srikanth Acharya, CEO at TheHomeOffice.in & OffiNeeds.com. TheHomeOffice helps professionals work more efficiently from their homes and at Offineeds, we help companies create #BrandAmbassadors through #CorporateGifts.