30+ Employee Engagement Activities For Remote Workers
Majority of the businesses worldwide have chosen to embrace the Work from home lifestyle, given that the Covid pandemic has shown no signs of slowing down.
At home, employees need to juggle between work as well as family commitments. This leads to a quicker burn out which makes them want to quit their job.
One might even agree that working from an office is much easier in comparison to working from home.
Managers agree that it is now more important than ever to engage their employees creatively and retain them.
Why?
Attracting new employees can financially affect a company as it takes a significant amount of valuable time and money to hire and train new employees. And what if they aren't as effective as the employees who just quit?
While employee engagement might be tough, it requires more effort when they are remote workers. However, with the right moves, it is possible to keep them engaged and active. 
In this article, we have covered 30+ employee engagement activities for remote workers during the Covid pandemic.
But first, let's find out —
What is employee engagement?

How does it motivate employees to increase their productivity?
Why Is Employee Engagement Important?
Employee engagement can be described as a commitment from employees towards their managers and their job to contribute to the success of the business. Passionate employees give their job the best they can, which leads to successful business outcomes.
The simplest way to begin employee engagement is by ensuring clear communication. If leadership and management facilitate open communication channels, it helps create strong bonds with and among your employees. Apart from keeping them engaged, it also increases employees' productivity.
Let us now look at what else you can do to make your employees be their best at work:
Employee Engagement Activities for Remote Workers
1. Holiday celebrations
This is a great way to unwind from all the stress and cheer your team up. An excellent tip to celebrate festivals like Christmas is hosting a secret Santa event. The gifts don't even have to be expensive. As long as they are useful and your team can use them on a daily basis, they'll serve the purpose.
2. Home tours
This may be a great way to break the ice and build bonds with your employees. Here, you can ask employees to give everyone a virtual tour around their house and perhaps, introduce them to their pets too.
3. One-on-one video calls
Private calls with the founders of the company are a great way to make your employees feel heard. This is a good time to ask them for their opinions and their feedback. 
4. Online training
Social distancing is stressful for everyone and some employees might lose sight of their path. Providing online training and walking them through the WFH process is a fantastic way to keep them engaged. 
5. Office games online
This is a fun activity that can be scheduled during the end of the workweek. Here, everyone plays office games in the form of trivia and funny challenges. This may be hilarious, but it will boost their morale. 
6. Give them recognition
Is there something that an employee did exceptionally well? Give them the recognition and praise they deserve. Failing to do so might make them feel that you only care about the revenue and not them. 
7. Allow them to choose their own schedules
Emphasizing a work-life balance is crucial to the success of the organization. As long as the team gets their job for the day done, allow them to choose their own working hours.
8. Provide incentives
Healthy competition is always worth rewarding. Provide employees who complete their goals within a certain time some incentives to give them recognition. 
9. Let your employees host meetings
As a manager, your team probably hears you talking a lot. Give them a chance to host meetings as well. 
10. Encourage healthy habits
WFH lifestyle is stressful for many. Encourage healthy habits by asking them to do simple things. It could be about making the bed or even getting a 10-minute walk every day.
11. Slack channel for #small-wins
Here, we celebrate the small little wins that your employee may be proud of, which might otherwise go unnoticed. 
12. Company yearbook
This is one of the top employee engagement activities in Indian companies. This can include photos of the team at work, or, at activities organized throughout the year. 
13. Paid days off
Did your team achieve the monthly target earlier than expected? Celebrate it by giving them a few paid days off. Time off work with their family and friends will help them rejuvenate and keep them motivated for the next work month.
14. Host celebrations for work anniversaries
A quick post recognizing the tenure of your employees goes a long way. It could be as simple as "Happy 3 year work anniversary, Teddy!" to make them feel heard. 
15. TEDx style talks
This could be a monthly activity where you schedule talks where the employees talk about things they are passionate about. Making them feel heard is crucial to the organization's success.
16. Host virtual birthday parties for the team
Office work environments usually call for a lot of cake, singing and restaurant food. While the same cannot be done in a WFH environment, the team can get together and sing the birthday person a happy birthday song. Perhaps, you can even send them a food delivery.
17. Bonus money
It is a great idea to occasionally distribute bonus money in the form of cash or a gift card when the company hits a major milestone. This way, employees will feel appreciated and engaged.
18. Icebreaker Q&A's
Among other employee engagement ideas is asking questions to break the ice before a meeting. This is useful especially when there are new hires onboard. 
19. Online escape room events
Escape rooms are a popular group activity all around the world. You may now enjoy entertaining and difficult virtual escape rooms while working from home. Remote employees will benefit from these online escape rooms since they encourage problem solving and cooperation.
20. Allow your employees to ditch a task
There might be tasks your employees are dreading to complete. Give them a breather and allow them to ditch it, or keep it for another day. 
21. No emails for a day
Banning emails for a day is a good way to increase face-to-face interaction which will create employee engagement.
22. Show them that you care
There could be many reasons why an employee might not be feeling good about working today. Perhaps, it is a task or it could be their chair. Is it time to replace their chair? See how you can help.
23. Pause before you begin
Before you hand out a task, think about why you are beginning it and what you aim to achieve from it. Having a clear idea of the goal and discussing it with your team is a good employee engagement idea. 
24. Allow peer-to-peer feedback
Feedback may not always be between a manager and their employee. Allowing employees to give each other feedback tends to be very insightful for everyone including the manager. This helps everyone learn new things and promotes employee engagement.
Some Bonus Work from Home Employee Engagement Ideas
25. Invite them to multiplayer game sessions
If your employees are fond of video games, give them a break from their tasks and allow them to unwind by inviting them to multiplayer game sessions. 
26. Gift your employees workstations
If your organizations' budget allows you to do so, gift them workstations so that they can be comfortable while working. This will show them that you care about their well-being and will promote employee engagement. 
27. Make a roadmap for your employee's goals
It is a good idea to create a road map of the professional goals of your employees, related to their job. This will not only promote employee engagement but also motivate them to do better.
28. Initiate a learning club
Asking your employees to think of the bigger picture by reading books or watching videos related to their job will promote employee engagement. Once in a while, create conference rooms where they learn about what they have learnt and how it implicates the business. 
29. Launch a monthly newsletter
Instead of having the HR or the founders sending it, allow employees to take the initiatives to send newsletters on a monthly basis. It could include general news of the company, achievements among other things. 
30. Encourage emojis
Encourage an emoji culture as it is not possible to convey emotions via text. Calls are not possible every time either. Emojis make conversations light-hearted and entertaining. 
31. Community garden
People generally like to be surrounded by nature. As a manager, you can convince your employees to grow a little plant. This is useful in promoting employee engagement as they will have other goals apart from their work and personal life too.
FAQS About Engaging Virtual Employees
Investing in employee engagement activities is an important way to build team spirit. Not only does it improve the work environment and company culture, it also increases job satisfaction. 
WFH during the pandemic has been stressful for everyone. As an HR manager, alleviating your employees' troubles by lighting up the atmosphere with festivity and cheer will go a long way and directly contribute to the company's success.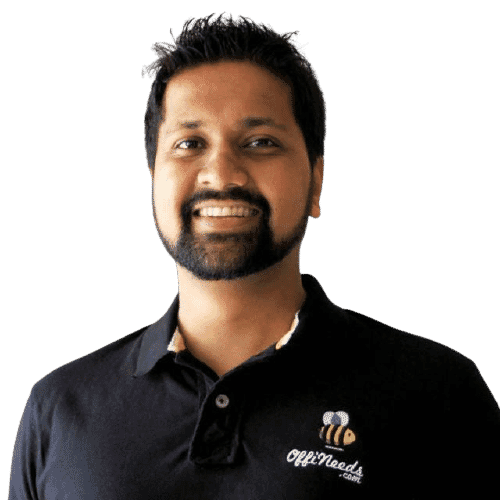 Srikanth Acharya is the founder of Offineeds, a leading corporate gifting company in India. He is on a mission to help organizations, HR managers to improve through home Delivery of corporate gifts, new joinee kits, brand stores & rewards programs.