HOW TO ENHANCE BRAND RECALL WITH CUSTOMISED PENS
In the digital age, it might seem as if the usage of pens is decreasing day by day. Here, it's important to note how the sales of luxury customized pens have been on the rise globally, despite rapid digitization.
Much like the physical experience of reading a book, there seems to be something about the act of writing that's clearly irreplaceable. This is perhaps why customized pens still remain one of the most compact and useful gifts you can give your employees or brand partners.
At OffiNeeds, we deal with premium pen brands that boost your company's identity ever so easily. These are Prodir, Submarine, Portronics, Pierre Cardin, Cross, Fuzo and more. It's even possible for you to make the gifting impact larger and better heard through adding on a customized notebook, visiting card holder, watch or even a wallet. All of these categories act as great pairing options to go with customized pens.
Why Personalized Pens are good for Brand Visibility
If you were to think back to the last time you wound up searching for a pen to take down notes at a meeting, or even just a phone number, you'll realize just how much they tend to be missed when they're not around!
This is the gap that's filled by personalized pens that seem to be lying around ever-so-conveniently should you ever need them. Through this, not only do personalized pens promote a sense of brand loyalty, but they also ensure subtle brand-recall without trying too hard
At OffiNeeds, we customize pens in ways that are perfect for your brand. Every detail, logo or brand name can be personalized down to the last detail.
Why customized Pens make for Great Gifts
The value of a pen is often more than just its function. When Miguel Cervantes said – "The pen is the tongue of the mind", it set the precedent for the need of a writing tool that's reflective of its owner's personality. Most people believe that even in this cluttered technological age, it is the act of writing (also known as journaling) that brings them peace of mind.
The pen has therefore never lost its importance even in the modern world and has only improved in its usage and stature. Even today, you are sure to find people searching for the perfect pen through which they can write down whatever is on their mind.
What's more, these customized pens can even come equipped with additional features such as a built-in USB, laser-pointer, stylus, LED lights, multi-color options and way more!
What does this mean for corporate organizations? How can they embody their brand promise through a symbolic present like this one? The answer lies in the phrase 'brand loyalty'.
A customized pen is not just an extension of your brand, but a token reminder of an employee's loyalty to his workplace, a pride in their sense of belonging. This is why a personalized pen is probably one of the reasons its remained a great hit as a corporate gift.
Why Choose Personalized Pens?
There can be many reasons as to why personalized pens make for amazing gifts, especially if you are looking to increase the visibility of your brand. First off, pens are sophisticated – there are few things cooler than having a personalized pen.
Like many other cool accessories like personalized cufflinks or monogrammed handkerchiefs, customized pens are one of the most functional, yet personal gifts that you can give. Much like a stamp of ownership, personalized pens give your employees a tool to express their affinity to a brand that they work for.
Having a personalized pen, and gifting one give off a sense of preparedness and style. A pen with the logo of your brand grants you an air of authority, in order to speak on behalf of the organization represented. It also helps form a bond between any customer and the brand, as a subtle marketing move.
Pens make for an amazing branding tool since they are potentially always with the person who receives them. Pens are often borrowed and rarely returned, which means there are newer eyes looking at your brand's logo, without intending to! This effect can be extremely useful when it comes to marketing.
However, there is an important way in which personalized pens are different when compared to their normal counterparts. The answer is in their uniqueness – something that normal pens find it hard to capture.
By gifting someone a personalized pen, you are reminding them that they hold a place in your thoughts. The unique pen one holds even when he/she writes the most trivial things remind him/her of that fact.
Having a set of personalized pens for yourself makes you feel unique, and thus you can increase the likability and good-will factor of your company. OffiNeeds can even help your business take this a step further, and customize pens with the names of employees!
This personal connection that you build with this person can really help your company when the going gets tough. The person will most likely be eager to repay the favor, and it could be the start of a beautiful partnership. Choosing the perfect gift can actually have profound implications for your business, so choose wisely!
When choosing a gift for someone, it goes without saying that you will have to keep the personality of the person receiving the gift in mind. The function of the personalized pen gift also matters – the amount the person is going to use the pen can help you make a decision. When you buy a personalized pen as a gift, definitely think about who you are buying for.
There are many options to choose from when you are going for a pen. From ballpoint pens to heavy fountain pens, each one has its own benefits and issues – so choose wisely.
If you think that the person is going to be using the pen a lot, go for a heavier pen when you are gifting one. Heavier pens feel more secure in the hand and can offer better control to the writer. However, it might also be difficult for people with smaller hands to control, so keep that in mind too.
Another thing to remember is that a pen is much more than a writing tool, in the modern world – it is a style accessory. It can be used to make anyone look classier, especially if it is a ball-point or a fountain pen.
Therefore, consider the style statement that the person usually tries to make when you choose a pen. The general color palette of the person must be kept in mind – people who love to dress up colorfully may go for coloured inks or pens with striking exterior colours since it would go well with their style.
On the other hand, people who always dress in sombre, dark colours would definitely like something understated and neutral since it helps them remain elegant without sticking out. Also, tread carefully when you are gifting people of different genders. Your female colleagues may not be enthralled by the idea of purple or pink pens, so it would be better to go for less strong colours when you choose personalized pens for them.
Don't forget to retain the essence of your brand too, in the designing of customized pens. Not only do they promote your brand, they're extensions of your brand's identity.
The Types of Pens
When you are choosing a personalized gift for someone, it is always important for you to understand what you are getting into. After all, this pen is not just a pen – it represents the start of a relationship between the people exchanging the gifts.
These are the main types of pens there are, categorized roughly into three: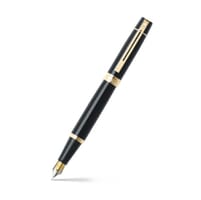 Fountain pens, or ink pens as they are commonly known, come with a refillable inkwell and a nib which is more flexible. These pens are typically sought after by connoisseurs and pen lovers alike – they also require upkeep from the owner.
They are also usually the most expensive, out of the types of pens there are. They enable the person to write with better style since the nib only has to be oriented in a certain direction for proper ink flow.
Unlike fountain pens which use water-based ink, ballpoint pens usually have oil-based ink. This makes them water resistant, and the writing is more durable.
The ballpoint pens are the most commonly used ones, owing to their ease-of-use. They are widely used for signing documents, taking notes and other forms of basic handwritten communication.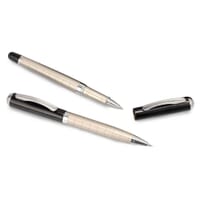 These are incredibly easy to use, and are similar to their ballpoint counterparts. The main difference is that the ink flow is smooth and uniform, and does not depend on the amount of pressure that is applied by the writer.
Therefore, these are preferred by older people – however, the ink cartridges or refills of these pens usually run out quicker than their counterparts.
All three of the above types of pens can be personalized, and make for wonderful gifts regardless of the season. No matter how developed the era is, there is nothing which beats the sense of safety and security that holding a pen in your hands gives you.
Where Can I Get Pens Customized For Corporate Gifting?
When you are gifting something to somebody, it is important to ensure that your gift is of the highest quality – particularly if it is for business-related matters. After all, you do not want to set a bad impression by giving a potential business partner low-quality gifts, do you?
At OffiNeeds.com, there is a large collection of premium printed pens which can come to your aid. They can even be paired up with other customizable office accessories. These can be customized and used at corporate offices in order to promote events, mark milestones or just as a token of appreciation.
The options for customization range from printing the company logo to choosing to go with specific names. The options range from promotional gift pens for events, to corporate pens and custom pens which can help you in your business.
The time taken for delivery varies from as quickly as 3 days, to around 15 days depending upon various factors. You can get a wholesale order of the pens, whose price ranges also ensure that everyone finds what they are looking for!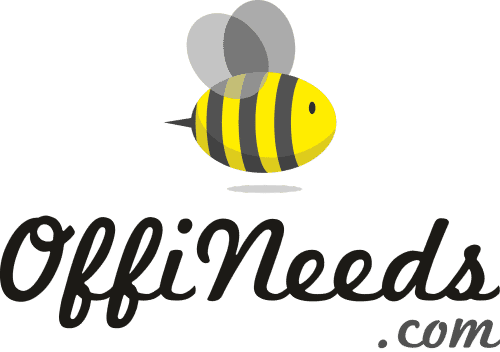 The Offineeds editorial team is a group of trained and experienced content professionals who are deeply knowledgeable about the corporate gifting and employee engagement industry.