How Offineeds helped Cerner in this pandemic with "The Box of Happiness"
Cerner, A U.S based company works at the intersection of Healthcare and Information Technology to connect people and systems around the world. Been in an industry for 40 years, Cerner's mission is to relentlessly seek breakthrough innovation that will shape Healthcare for tomorrow.
"We knew most of our associates are working from home this time. And Of course, most of them are with their families. We didn't want to send out anything just for them. We wanted to do something for their families, too". (Neha Mukharya, Corporate Meetings & Events Team, Cerner)
Cerner understands the importance of their associates. Where thousands of companies had removed their employees from the company in this global pandemic, Cerner had different thoughts. They wanted to send out something that can ease their associate's mental stress for a while in this pandemic. They wanted to thank their associates for their productivity and dedication towards their work in this pandemic. Along with this, Cerner wanted to work with someone who can put everything properly logistically because most of their associates were out of Bangalore.
"We needed something beyond Cerner's logo or the merchandise logo T-shirts. We started looking for a partner who can help us at every stage. Someone who can take care of everything from creative gifts for associates to packaging and handling the logistics". (Neha Mukharya, Corporate Meetings & Events Team, Cerner)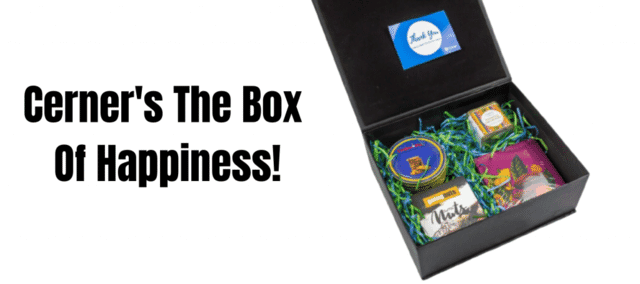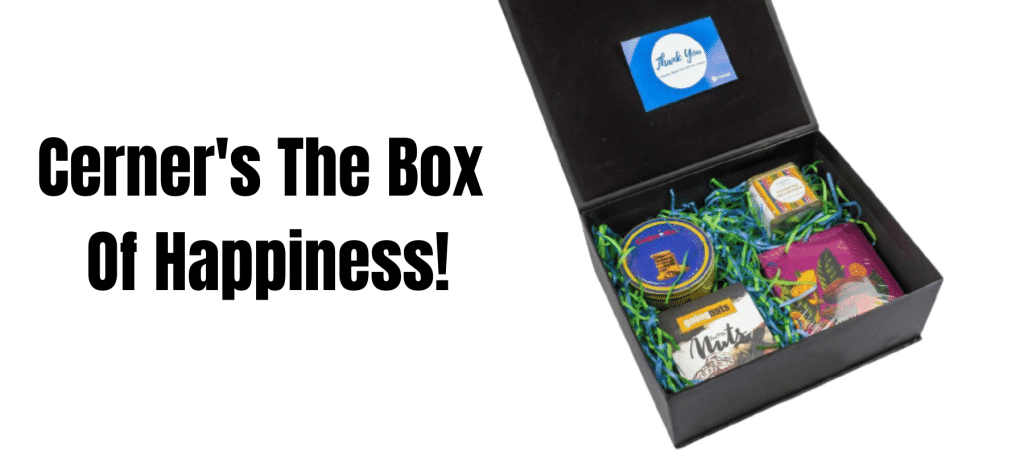 The set of requirements were quite challenging for Cerner. They then hired Offineeds, A corporate gifting company. Since 2005, they've been helping companies to customize their products according to their needs. When Cerner discussing the issue, Offineeds trying to find out what would be the great stuff that can be sent out to associates along with their families. Mutually, they decided to send out some luxurious goodie baskets. With their expertise in the industry, Offineeds knew what most people would love to have in this pandemic. After reviewing few items, they decided to go with some items like luxury Chocolates, Cookies, Trail mix, and Tea assortment to see the happiness in every age group of the family.
Cerner partnered with GIFTKART by Offineeds to create gourmet boxes as they were experts when it comes to creative gifting for Corporates. The boxes were named "The Box of Happiness".
The idea of gourmet boxes was a huge success for Cerner. It was quite surprising for employees to get those boxes on their door. The massive success of "The Box of Happiness" can be seen via word of mouth, and on Social Media, too. Without any error in logistics, whether it's the packaging or inventory management of the boxes, it was done greatly by Offineeds. It was liked by the family members, children, and spouse of the employees, too. Cerner's employees understood their importance through the kind gestures of the company.
"We didn't have to do a single follow-up with Offineeds. We were surprised that the logistics process was too smooth. They were giving us all the information about logistics and given us some tools to track all the packages. I don't think we had any stressful moments. The way they helped us with gourmet boxes and performed as a great partner was all we needed. Wanted to do something like this again in the future with Offineeds". (Neha Mukharya, Corporate Meetings & Events Team, Cerner)
Whether it's creative gifts for your employees or the logistics behind it, we've got you. Let's show your gifting efforts together.
Giftkart
Looking for Home Delivery of Corporate Gifts?