5 AMAZING IDEAS FOR
NEW JOINEE GIFTING AND EMPLOYEE ONBOARDING
We're still a long way away in mastering how to create engaged workforce.  Like it or not, this has a serious effect on customer satisfaction rates.  No, that's not me just talking through my hat; it's the Institute of Customer Service, UK and successful businessmen like Richard Branson who have been telling us for years that happy employees directly boost customer loyalty.
In fact, Branson thinks that if you can put your employees first, your customer second, and shareholders third, in the end the shareholders do well, the customers do better and you yourself are happy. Every time I explore the net for tips on customer care, I come across this quote –
"If you look after your staff, they'll look after your customers. It's that simple."- Richard Branson.
I don't think advice can be any more straight forward than that.
That's exactly why we need to be doing more for our employees.  So, what can we do to keep them happy and productive?
Well we could start at the beginning by zooming in on our new recruits.
Remember your first day at work?  With a new company, a new boss, a new work culture, the nervousness of whether you made the right decision, whether you will fit in and what it was going to do to the rest of your professional life?  The excitement, the enthusiasm, the apprehension is palpable – in fact something very akin to a new bride walking in to her new home.  No, I'm not trying to be funny, I'm sure you can remember exactly how it feels.   So, to get back on track, if you want this new joinee to turn into your staunchest brand ambassador then this is the best time to get his/her buy in.
Every good idea doesn't come out of a text book.  Everything you do doesn't need to be in your "Manual of Company HR Rules".  You already know that the faster you can induct a new employee into your company and culture, the faster you're going to start getting results.  One way is to have personal interaction and an attitude of active listening.  The better you know your new guy/gal the faster you're going to be able to settle them in.
But to go back to that "getting-them-on-the-first-day" problem, you need to think of something different, surprise your new employee, enrich their first-day-at-work experience by introducing them to a work culture they'll love to get up and come to every morning.
This video I found on the net, gave me a completely out-of-the-box idea on welcoming new recruits.  Most of us wouldn't dream of getting our employees to do something like this for inductees.  That, in fact is the point.  Do something they'd never expect you to do.
See what I mean? The crux is to give them a welcome they'll never forget.  Build a culture that welcomes and embraces new recruits into the company's fold and immediately makes them feel at home.  Imagine all the time you're going to save on waiting for the ice to break and for them to adjust to the new people and environment.
Also, everything you can do to make them feel welcome will go a long way to build permanent relationships with the very people who are going to sell your brand to those thousands of customers you've been trying to woo.
Right, so let's cut to exactly what I'm trying to say.
As a Human Resource Officer, you've been arranging inductions and walk-through to make fresh recruits feel at home from day one.  And let's say your employees are not willing to learn a dance routine like the one in the video.  Here's an idea – what do you think would happen if you had someone waiting for the new joinee with a company gift kit in hand to welcome him/her?  Never thought of that? Well apart from the pleasant surprise; think what it says about the HR philosophy of the company.  
It says, "WE VALUE OUR TEAM MEMBERS" and "We'd like you to stay".  As a matter of fact, it would help a lot to do the same for newly wedded brides too, but then I'm digressing again.
So corporate gift hampers for newly employed team members!  It adds color to your employee campaign and makes a world of difference to that new person who would otherwise be looking lost on the first day in their new cubicle. 
Top 5 New Joinee Gifting Ideas
If a "new joinee welcome kit" sounds like a plan to you, then you're already wondering what you could give them that would convey the right message.  Good question.
I guessed you might want some inspiration and to make it easy, I've drawn up a list of the top 5 gift ideas for a new joinee.  Here's what the "welcome-to-our-work-space" gift hamper should look like and I'm every bit confident that this is the stuff new employee dreams are made of.
Surprised?  There's no more pleasurable gift than an essential, straight forward piece of garment.  A formal or casual shirt, a t-shirt or even an all-weather jacket with the company logo / natty tag line on the back is something that will bring a smile to even the most anxious new members of your workforce.  
The minute they wear it, everyone they see or vice versa will know who they work for and you have an instant brand ambassador in the making.  You may have issues with the size and color, but a check box on your company pre-joining form about sizes and preferences or a quick phone call from the HR department to the to-be joinee could easily solve that problem.  Besides it's a great way to pique the new recruit's curiosity.
Apparel has a personal touch to it and taking the trouble to find out preferred size or style (things like "with us without collar") can convey the positive message that you care about what they think and want.  You're not just giving out a pre-decided impersonal gift for the sake of it, you're taking the trouble to find out what their preferences are.  All in all, a smart piece of clothing covers many bases and is a must-have item in the new joinee kit.
That useful thing that everyone carries their laptop in of course!  If the members of your workforce are equipped with laptops, then something that they're always going to need is a smart looking backpack with lots of pockets and the company name on it in big letters.  The advantage being that wherever they go, they're carrying your company logo with them.  
Most importantly, a backpack makes it convenient for them to travel with their laptops, gives them space to keep numerous useful accessories and gadgets whenever they're mobile and tells them that the company cares.  Another solid reason for giving them a brand-new backpack is so that they stop embarrassing you by using the old backpack they got from their previous employer.  Now surely you need to do something about that?!
Pens, notebooks, folders, visiting card holders, diaries, pocket calendar books, lanyards, ID card cases are things that everyone uses every single day.  Visualize these products customized with your company vision, logo or even a short message from the CEO.  
The impact on the psyche of people just joining the company and the upsurge in your brand visibility is profound.  These are things no employee can do without and they're always lying around or being whipped out of pockets/purses for all to see.  That is exactly what makes them even more essential as part of your welcome-to-our-company kit.
4. Mug / Water Sipper / Coffee Flask
You can't have a corporate organization without a tea break, lunch break, after tea and lunch break, feeling-sleepy-need-a-hot-cup-of-coffee break, didn't-have-lunch-shall-have-some-soup break and so on.  And what would really make a difference to that employee trudging down to the pantry to grab a cuppa after breaking his/her head on a particularly taxing job?  That's it – their very own mug with their name and the name/logo of the company printed alongside it.  
A mug is an item of daily engagement.  It is noticed as much as it gets used.  Think of all the various uses it is put to – a pen stand, a tea-coffee-green tea-soup-water sipper, a desktop accessory, just memorabilia or about anything that our creative minds can think of using it for.  Likely the mug will stay on your employees' desk for all to see or be taken home as a memento even when he/she quits.  It's a no brainer; the mighty mug must be included.
Who doesn't like a surprise?  Something nice and useful that will help them work or cope better would be a great item to include in your new joinee gift hamper.  If the gift kit contains a gadget that will make life easier for them, it will have that bigger an impact.  So, what could you include which would be as a cherry on the cake?  How about a power bank, blue tooth head set, blue tooth speaker, USB flash drive, or something similar on those lines? 
These are accessories that any employee would use frequently and sincerely appreciate.  It would be the perfect element to complete and drive home your "welcome-to-the-way-we-work" message and give the finishing touches to the beginning of a great relationship with your new employee. 
Ok, that's one big job done.  We've got the components sorted out, but what about the dynamics?  I mean how are you going to hand it over?  You could just stuff them all into a bag or cardboard box and leave it on their table.  But don't you think that just might defeat the purpose?  You are after all, making all this effort to impress upon the recruit your philosophy of "love-thy-employee".  
So, to make the event memorable and to actually serve their purpose, my advice is that the gifts be presented, arranged beautifully in a custom-made gift box.  Picture a fancy box full of goodies, all sitting neatly in slots with the company name on lid.  A short message from the CEO or a welcome letter from the management would really make it a gesture to remember.  Memories last a lot longer than money and I promise you this one's going to stick. Your recruit has decided that he/she has finally come to the right place.
I'm sure you know that people talk to each other about the culture at their workplace, whether they're looked after or not and how happy (or not) they are in their job.  Gestures like these spread goodwill, loyalty and establish strong bonds with the company which alternative "HR strategies "may not achieve. 
Business scenarios keep changing but there are ways to make sure that your team doesn't keep changing.
Don't forget, healthy employees affect the health of your business and that's why we're all in the game.
Shall be back with more gifting ideas.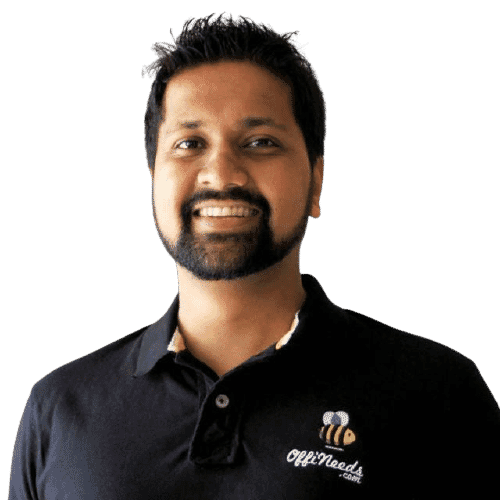 Srikanth Acharya is the founder of Offineeds, a leading corporate gifting company in India. He is on a mission to help organizations, HR managers to improve through home Delivery of corporate gifts, new joinee kits, brand stores & rewards programs.